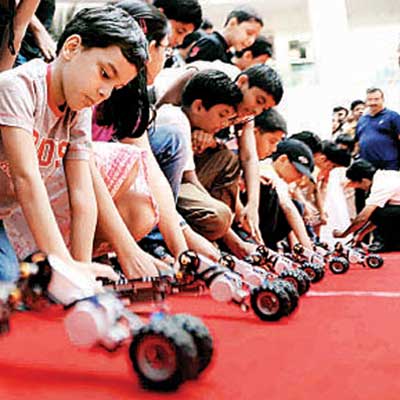 The well-attended series of Robonomics workshops organised by dna across the city culminated at Infiniti mall, Malad, on Sunday, with an educative session in which a large number of children participated with their parents.
Robonomics is a fast-advancing field in the design and manufacture of micro components in electronics and computers, and this has been formulated into instruction programmes to inspire kids early in the creative use of technology. This helps to develop an interest in toddlers in science, maths and engineering.
Suhas Acharya of Irobokid, which conducted the session, said, "In the past two years that we have conducted these workshops in Mumbai, we have noticed a visible change in thinking and the response has been growing."
As the session started, the excitement among the kids attracted a rush of families who had come out for the evening. So large was the crowd that some had to be turned back due to space constraints.
The children were bunched in groups and each group was given a robotic kit. Members of Irobokid explained to the kids about the working and programming of robots and showed them how to put the robots together. Visual aids made understanding the concepts easier.
Dipti Surve, mother of Meet, 10, said, "Such activities help kids think, reason better and become creative. It also helps in grooming their personality." Irobokid tutor Kashyap Shah engaged the kids in an interaction to test the knowledge they gained through the workshop. They were each given a certificate.