The photography blog that showcases the human race in its different forms, colours and sizes with a quotable quote, is now a viral wave with everyone creating their own Humans of... pages inspired by Humans of New York.
You could call it an Internet phenomenon. What started with one photographer's mission to create a photographic census of people in New York city has been replicated by photographers around the world, each one of them capturing amazing photographs of the human race in their own country, city, town, and even university.
In the beginning there was one man with a beautiful idea. Brandon Stanton, in the summer of 2010, started Humans of New York.
"I thought it would be really cool to create an exhaustive catalogue of the city's inhabitants, so I set out to photograph 10,000 New Yorkers and plot their photos on a map," he writes on his about page on his website.
There after, Stanton worked for several months with this goal in mind but little did he know that somewhere along the way, his project would begin to take on a different character.
"I started collecting quotes and short stories from the people I met, and began including these snippets alongside the photographs. Taken together, these portraits and captions became the subject of a vibrant blog, which over the past two years has gained a large daily following," writes Stanton. Large indeed.
Today, his blog has over one million collective followers on Facebook and Tumblr. What's even cooler is that the project has taken on an international dimension with hundreds of others who've been inspired by the work.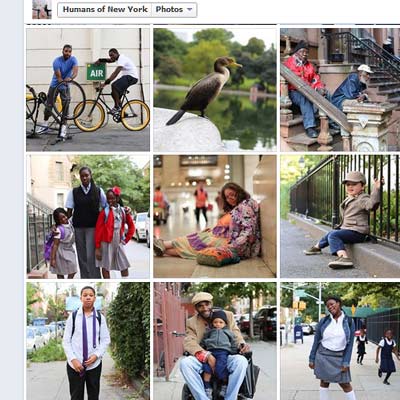 The Humans of Big List
There are so many versions of the Humans of... photo blogs that now, a Phoenix-based woman is curating a list called 'Humans Of Big List' to meticulously archive all of them in alphabetical order.
Bobbie Peachey loves the Internet. She also loves viewing portraits of people. That's one of the reasons, she started tracking Facebook and Google to find every Humans of page on the Internet.
"I am fascinated by viewing other people and other places, learning a bit about them, and seeing them in their own countries and places. These pages brings other people closer to me, they make them my neighbours," says the grandmother who meticulously lists all of them in alphabetical order on her website.
Why do people love the Humans of pages?
Well perhaps because some of them provide perspective. The blogger behind Humans of Tehran (31,526 likes) writes how the page "offers a well-needed corrective to the clashes of stereotypical images that constitutes so much of Western reporting on Iran".
The page, founded in 2011, consists of street photography from across the Iranian capital, giving a candid look at modern Iranian society.
"The photographs neither bask in contradiction nor attempt to present a uniform face, but instead reflect the group's simple, elegant premise: to photograph Iranians as they live their daily lives," reads the description on the page.
We wrote to some of the best photojournalists who have created 'Humans of...' spinoffs... Below are images and excerpts from the interviews.
HUMANS OF VILNIUS
Vincas Alesius is a translator by profession who also happens to be a passionate photographer. He's the man behind Humans of Vilnius (17,694 likes).
"My aim is not to catch beautiful and vain people, but to hear true and real stories despite their appearance," says Alesius who uses a Canon mark II with a 50 mm 1.4 f lens for portraits and 70-200 mm f.4 is II lens for distant shots.
"People visit the page because they can see different people and different stories and they get to know their city through people's stories," he says, adding he loves the reactions from foreigners who discover his city through the photos he takes.
Which parts of Vilnius has Alesius covered?
"It is not the place that matters, it is my mood where I go. I spend a lot of time in the old town of Vilnius, but sometimes I feel like going somewhere out of it," he says.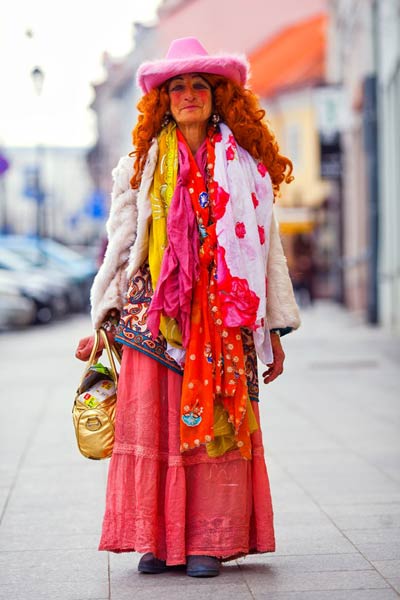 Ponia Rozyte a homeless woman famous for her extravagant dressing style and carefree attitude. The caption on her photo read: What's her real name? Respect.
(Photo credit: Vincas Alesius. For more: www.facebook.com/HumansofVilnius)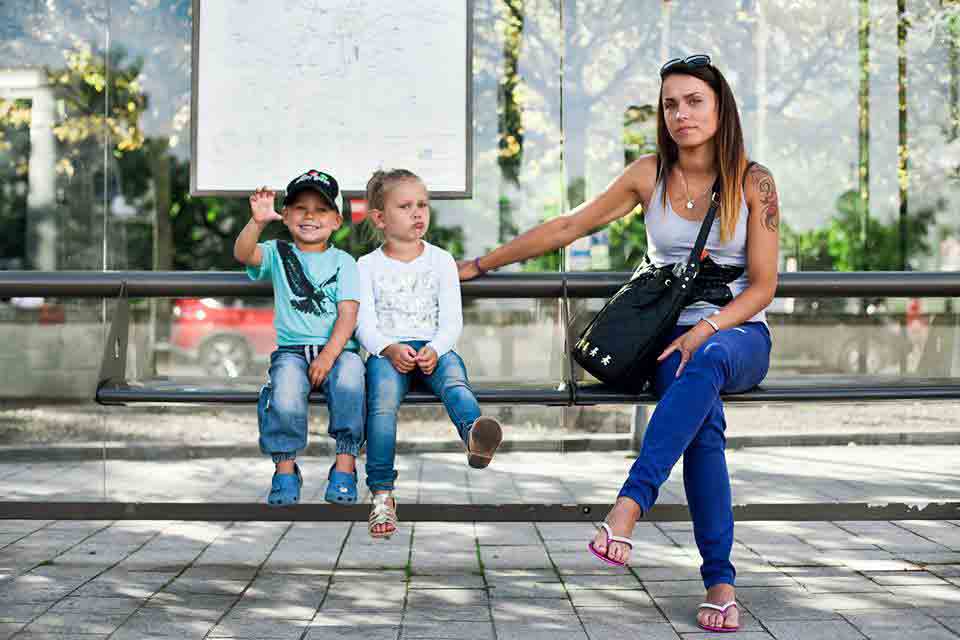 An image that captures more than what can be said. The caption reads: What is the most difficult part of parenting? Not to lose patience. Photo credit: Humans of Vilnius
HUMANS OF FIJI ISLANDS
Meet Jon Apted, a busy lawyer by profession and a TV personality who looks for photo opportunities while shopping. "If people look me in the eye that is an opening. If they look interesting I ask. 9 out of 10 people oblige me," says Apted, the creator of Humans of Fiji Islands.
Is it easy to get quotable quotes for captions?
"Quotes are harder to get. Partly it is because I have insufficient time to sit down and chat. Partly it is because many who are happy to have their picture taken don't want to be quoted. Partly it is because sometimes even when you do chat, you don't get anything quotable!" he reveals.
While the page is popular among Fijians many of the fans are expatriate Fijians who like to be reminded everyday of home. "They like seeing familiar scenes and faces presented in a different light in a picture. Many of my pictures have an underlying local humour or satire that they enjoy."
Apted hopes that his pictures do help break stereotypes: the stereotypes that others have of us and the stereotypes we have of each other.
"We are still a divided community. While inter-ethnic interaction and understanding are growing, there is still not enough of it. The names of those who like and comment on each photo indicate more inter-ethnic appreciation than is apparent- to me anyway- in day to day life," he says.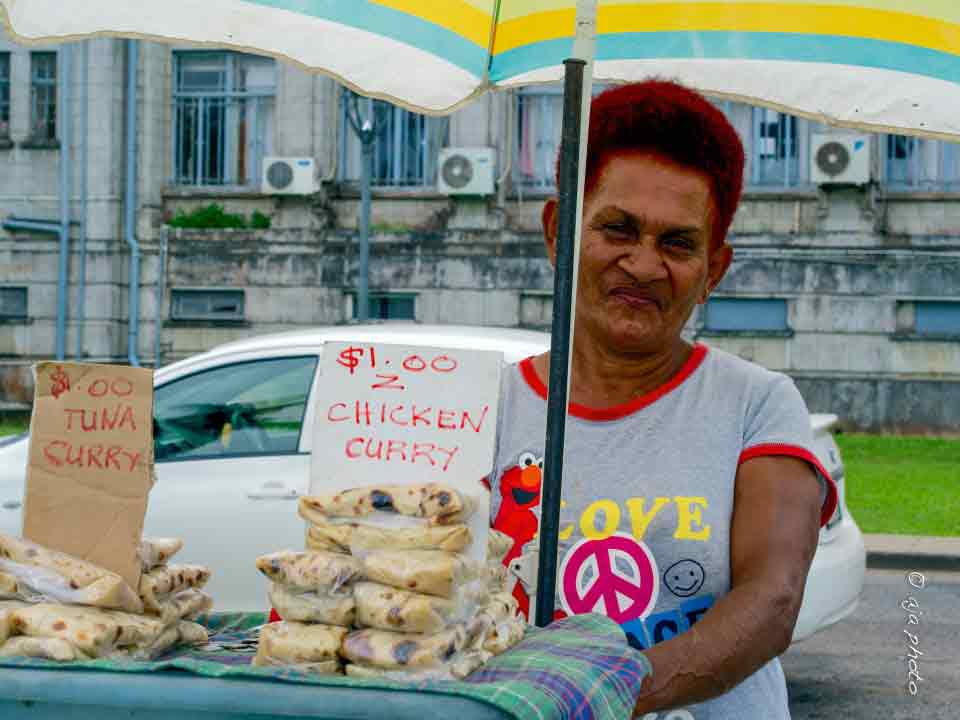 A lovely capture by Jon Apted from the Humans of Fiji Islands page) Its caption aptly reads: Can you imagine life without colour- or curry?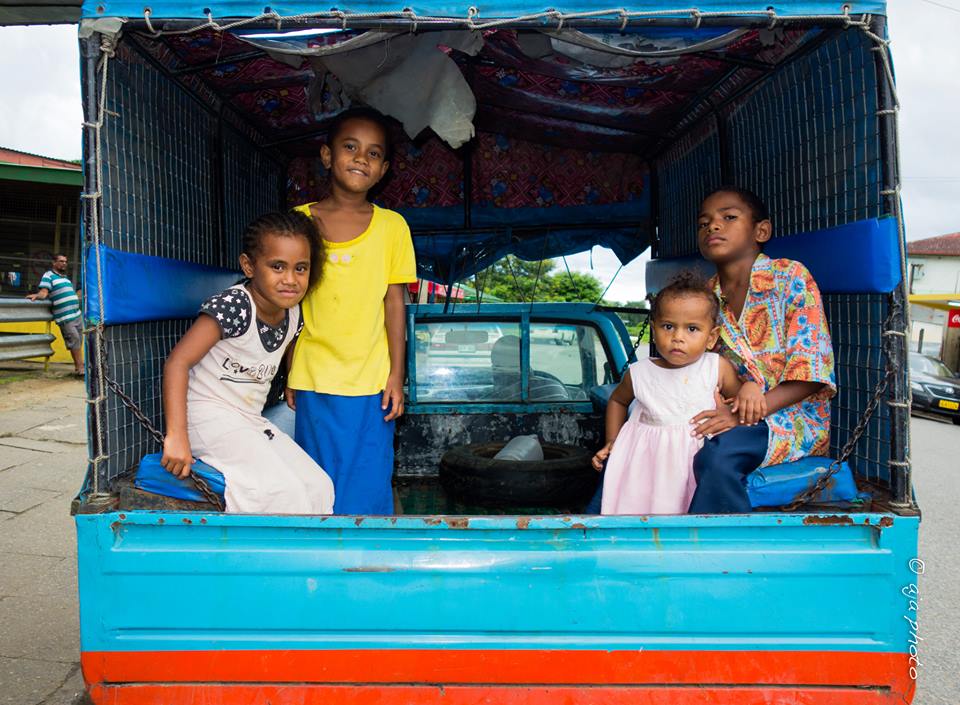 Another beautiful capture. The caption reads: In rural Fiji, the standard form of public service transportation is the "carrier", as seen here parked in Korovou Town with some little passengers. Image courtesy Humans of Fiji Islands
HUMANS OF LONDON CITY
Souleyman Messalti is a French multimedia journalism student who captures the everyday people of London "from the guy who sweeps the floor every morning to the billionaire coming out of his Bentley in Mayfair." All his photos are published on the Humans of London City page on Facebook.
He believes that people don't really interact with each other on the streets, although they might be curious about other people' stories, and pasts.
"The fact that I put stories on the faces may highlight that every single person has something to say and is worth discussing with."
Souleyman tells us an interesting anecdote from one of his shooting adventures.
"I was with one woman I photographed in Brick Lane. I was having a drink in a bar and I saw her, talked to her for about 30 minutes. She was explaining me that she'd love to move to Milan but didn't think she was brave enough to leave her comfort zone. I was encouraging her to do so and to go for an adventure; she was young, pretty, talented and wanted to start a career in fashion PR. I posted the picture with the story of her dilemma. Some people commented on it and also encouraged her. About two weeks after, I received an e-mail from this woman saying the she decided to move to Milan, mostly thanks to our conversation and the comments on her picture. It's great to feel like you've changed someone's life! I still see her updates on Facebook and she seems to be having a great time in Italy..."
Below is the image of the girl Messalti talks about... Photo credit: Humans of London City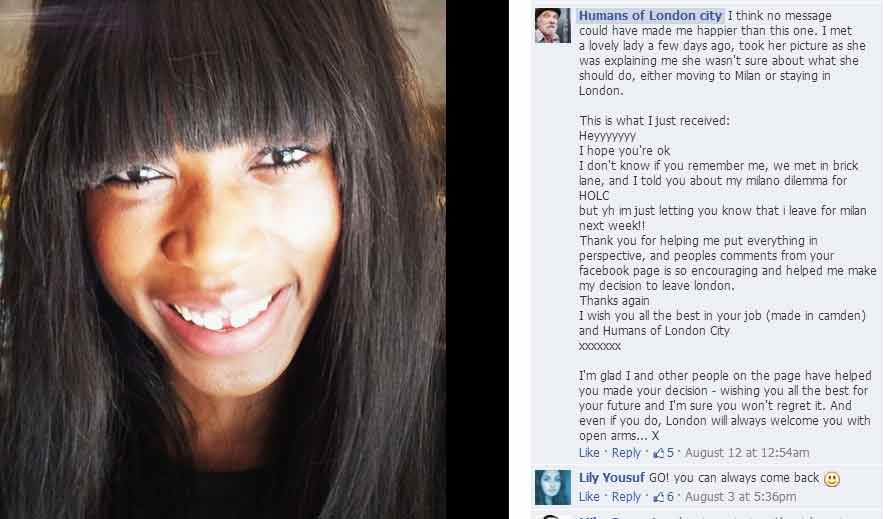 Below, is another stellar image by Souleyman Messalti. For more, visit Humans of London City.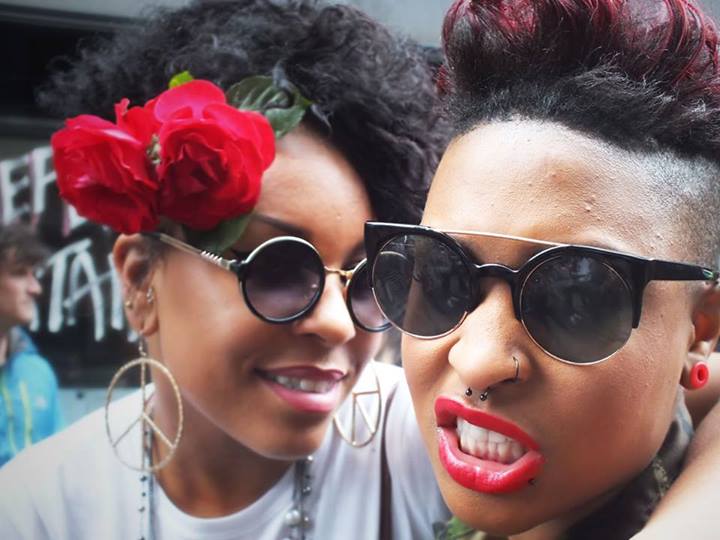 Author's take: The Internet because of its wide reach and flexibility allows for inspiring projects like these pages. They do not belong to the mainstream and yet become mainstream because of their following. They cater to audiences that want to read human stories, stories that are often ignored by the mainstream media, stories that you and me would never have had access to because of the hurried lives we live.
And so beautifully, they manage to capture our attention while we're on Facebook, that one place that some of the busiest minds in the world find time to spend on...
Below are a few interesting Indian Humans of... pages for desi flavour.
Humans of India: Set up by Megha Majumder, the page has several contributing photographers.
Humans of Bangalore: Created by Amulya Nagaraj, the page description reads: To tell the story of a city that took the mantra "Swalpa adjust maadi" (Please Adjust A Lil Bit) to its heart and into every aspect of life.
Humans of Mumbai: Started by Ravi Bohra, who intends to capture the "city's allure: a wealth of art deco and grand colonial relics, cacophonic temples,warrens of bazaars, and the (not so odd) odd spiritual bastion of tranquillity".