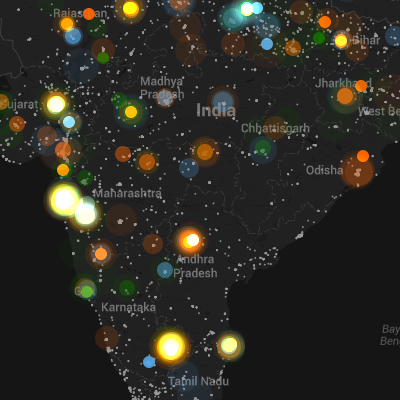 Replicating usage of social media platform akin to Barack Obama's campaign, India's Prime Ministerial designate Narendra Modi has paved way for social media usage for elections in India.
The entire build-up to the elections saw usage of social media platforms and especially Twitter to the optimum with five of Narendra Modi's tweets featuring in the top ten tweets. Other leaders too followed the same path and used twitter to connect, share and even take forwward their poll agenda. But, as they say, 'The winner takes it all', Narendra Modi's twitter presence and growth has been stupendous to say the least.
Elections counting day: #IndiaVotes
While Congress leaders too created their profiles, the impact wasn't as they expected as BJP and Narendra Modi had already taken the lead in social media usage and had been extensively campaigning with the digital platform besides the traditional forms of campaigning.
On Friday, when the elections results started pouring in and news platforms were filled with updates, twitter broke the clutter with relatively easy tweets by various agencies including Press Information Bureau and others. Though debates around usage of social media and their actual impact gained credence, the finale has silenced both Narendra Modi's critics and those who don't consider social media as a powerful entity.
Narendra Modi took to Twitter and utilised the platform to the hilt. His tweet "India was won!" became the most retweeted message ever from India and reached 10 thousand, 20 thousand, 30 thousand, and 40 thousand retweets faster than any other tweet from India.
Modi congratulated both world leaders and Indian politicos alike. Commenting on how Twitter acted as a catalyst in improving communications across the globe, Rishi Jaitly, Market Director, Twitter India said, "This is truly the first Twitter Election in India, with all major political parties and candidates actively campaigning & connecting with voters on Twitter."
Rishi further compared Modi's campaign to Barack Obama's and said, "Similarly to the Obama campaign, everyone knew that this Lok Sabha election would also be influenced by social media, particularly with over 150 million first-time voters between the age of 18-23 years old who are social media savvy with mobile-centric lifestyles. Twitter's election strategy in India differed from other digital players - instead of bringing people to an election site, we brought the elections to the people. We formed mobile, TV and news partnerships to distribute elections-related Tweets on and off Twitter, so that every Indian voter can make an informed decision in real-time."
According to data provided by Twitter, Modi also added a record 1,04,861 followers on the day— the biggest single-day gain in the number of followers he's seen since joining Twitter. His account has over 4.1 million followers on Twitter.
The top 5 Election related terms on Twitter were:
*All figures in thousands
Here are some quick-facts:
*Friday saw over 2 million election-related tweets over a 24-hour period and Narendra Modi found himself mentioned in 0.73 million of the tweets on counting day.
*BJP was the subject of 322,596 tweets while 118,717 Aam Aadmi Party (AAP) related tweets were sent on Friday.
*Since January 1 2014, over 58 million election-related tweets were sent and Narendra Modi has been mentioned around 11.85 million times.
These numbers matter for Twitter as the social networking site has been trying extensively to attract news users and retain existing ones.
According to data, Twitter's numbers show that it has a big problem. As per a report by Harvard Business Review article, the platform is attracting fewer and fewer new users in the U.S. and its current users are abandoning it at an increasing rate. Twitter's managers have tried to fix the problem by changing the look of Twitter profiles. Some observers suggest deeper changes to the platform: making the experience much more user friendly, developing better algorithms for surfacing interesting content, or improving search functionalities.
According to the post, India had a 150 million Internet users in 2014 and by June 2014, this number will grow to almost 250 million, about as many as in the U.S.
Misiek Piskorski states that India is already the second biggest user of Facebook after the U.S. and by calculations it will become number one this year. Facebook is already helping to make this happen. WhatsApp happens to be the most popular social interaction tool in India and It's not a coincidence that Facebook wanted to buy it to accelerate its growth there concludes Piskorski.
Hence, by taking political interactions with global leaders and election coverage live and providing a front-seat view to Indian elections, both Narendra Modi and Twitter have won the battle and how.
Below is an interesting Twitter battle between parties:
As it became relatively evident that Narendra Modi would win with a landslide victory, tweets to the leader increased from across the World. Global leaders from Australia, United Kingdom, Sri Lanka and Singapore wished Modi well with tweets:
Congrats to @narendramodi & BJP on their electoral success! Look fwd to working with new Indian Govt to strengthen India-Spore relns. – LHL

— Lee Hsien Loong (@leehsienloong) May 17, 2014
@TonyAbbottMHR Thank You Mr. Abbott. I look forward to a bright future for India-Australia relations.

— Narendra Modi (@narendramodi) May 16, 2014
I've spoken to @narendramodi and congratulated him on his success. I look forward to strengthening ties between India and Australia

— Tony Abbott (@TonyAbbottMHR) May 16, 2014
PM: Congratulations @narendramodi on victory in India's elections. Keen to work together to get the most from UK-India relationship

— UK Prime Minister (@Number10gov) May 16, 2014
President Rajapaksa called @narendramodi a short while ago; Congratulated on BJP victory & invited for a state visit to #SriLanka. #India

— Mahinda Rajapaksa (@PresRajapaksa) May 16, 2014
Congratulations @narendramodi and BJP for your success in the polls. Look forward to working together for a strong South Asia.

— Mohamed Nasheed (@MohamedNasheed) May 16, 2014
While Narendra Modi's social media team has been using different methods to reach out to everyone, after winning, he responded to individual tweets. Narendra Modi also took out time out to reply to several messages.
Read how Narendra Modi tweeted at everyone and accepted wishes for winning Lok Sabha elections.
Raheel Khursheed, Head of News, Politics and Government for Twitter India explained the Twitter dynamics and Indian elections in a post. Read the full text here:
Below are some excerpts:
*More than 56 million election-related Tweets from January 1 this year till May 12, when the polls ended.
*Each of the poll days saw between 5.4 lakh and 8.2 lakh election-related Tweets. To put this in perspective, in the 2009 elections, there was just a single active politician with 6,000 Twitter followers. This Lok Sabha Election, Twitter became the medium of choice for people to engage in and consume political content.
*Our data science team analysed the amazing impact the Indian Twitter user has had on this mammoth election. This is what millions of your elections-related Tweets look like, when time-lapsed for the whole election starting April 7 and ending on May 12!
*Not surprisingly, @NarendraModi has reached 3.97 million followers growing his follower base by 28% percent since Jan 1. Not to be outdone, @ArvindKejriwal has raced to 1.79 million, an amazing 79% growth from the start of the year. @AamAadmiParty has grown to 682K followers registering a 119% increase since the beginning of the year, a very active @BJP4India has reached 491K followers, growing at 70% and late entrant @INCIndia at 178K followers has grown at an incredible 376% starting with just 37,357 followers on Jan 1.
*Being on Twitter these past few weeks has meant having a front row seat to the Lok Sabha Election.