The online shopping space had some techical issues.
The Great Online Shopping Festival website was forced the blushes on Wednesday as the website crashed on Day 1.
People who visited the website were greeted by a blank page with a 'Hello World' test message.
Great Online Shopping Festival or GOSF, an initiative by Google India looks to bring together 240 e-commerce sites and offer the best bargains and deals. If you were planning to buy that camera, here's the time as industry experts hail this as the new trend in online shopping.
GOSF was started in December last year. The second edition of the online festival is happening between 11-13 December starting at 9 am and is based on the concept of Black Friday and Cyber Monday in United States. E-commerce is a concept gaining strong grounds in India with major sites like Flipkart, E-bay and MakeMyTrip offering deals on multitude of products at discounted rates.
An initiative to bring various e-commerce sites together who give discounts to increase their sales. In 2012, this festival helped the e-commerce sites to increase their sales by three times. Hence, it is seen as a major connector between consumers and various shopping sites.
Here's what you could see on their website: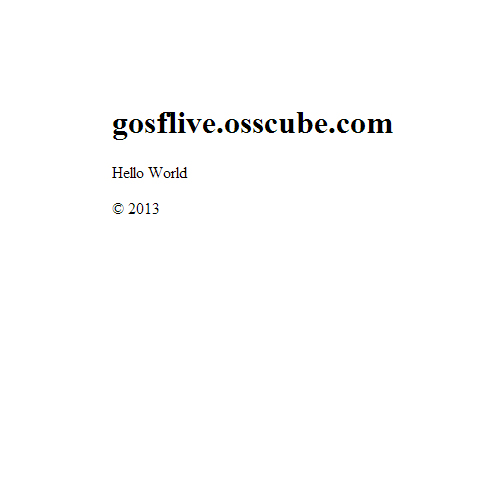 Twitter was buzzing with tweets about it,
Day #1 of #GOSF http://t.co/wmYfYGjEFJ and seems like the website is hacked. Shows http://t.co/7KYA75679E Hello World © 2013 Is this a Joke?

— Amit Bhawani (@amitbhawani) December 11, 2013
#GOSF.in = The Great Design Disaster

— Sunit Singh (@surdattack) December 11, 2013
GOSF is down for me too... by the way, it's running no Drupal pic.twitter.com/CHgs7WytSp

— NT Balanarayan (@chupchap) December 11, 2013
Meanwhile, #GOSF website is still down.

— N (@coderzombie) December 11, 2013
Google India tweeted an apology saying,
We sincerely apologise for the inconvenience caused to shoppers on gosf.in. We are working on resolving these technical issues. #GOSF

— Google India (@googleindia) December 11, 2013