A couple of months back, Google introduced handwriting input tool and Hindi language support to Google Translate, and more recently updated the app to add more support to the language. Targeting the huge Indian population, Google has now extended this support for the language to its Search, Chrome and has also added Hindi UI to Android Jelly Bean.
Devices running on Android 4.3 Jelly Bean can now select Hindi as the default language through settings. In the 'Language and Input' option, tap on 'Language' and when you select Hindi on the list, the phone's interface will chance to Hindi.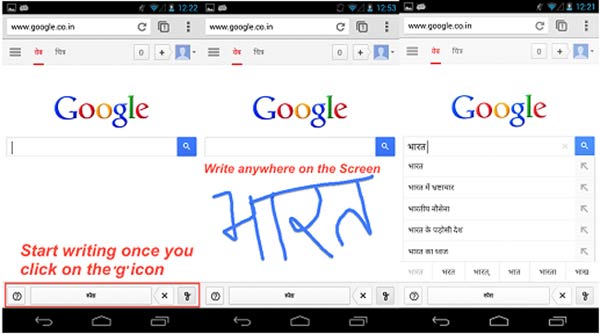 Now Google Search on smartphones and tablets also support the handwriting input tool, similar to the one on Google Translate, and also understands written Hindi. So if you write a query in Hindi, Google will recognize it and give back relevant results. To enable this option, on the Google Search mobile website, click on settings at the bottom and in the search settings, enable 'Handwrite'.
In addition to the above, Google has also added this input tool to Chrome as an extension, to allow one to add Hindi script to any site. On Chrome's Webstore, go to input tools and click on 'Add to Chrome'. Once installed, whenever you want to add Hindi to a page, click on the pen tool to activate the input tool.
This is not the first time Indian languages are getting importance from a mobile company, as last week Samsung launched its own smartphone and tablet UI in 9 Indian languages that includes Hindi, Punjabi, Bengali, Tamil, Telugu, Kannada, Malayalam, Marathi and Gujarati.