Google on Wednesday marked the 194th birth anniversary of French physicist Jean Bernard Léon Foucault with an interactive doodle.

The doodle is based on Foucault pendulum — a device that the physicist created in 1851 to confirm that the Earth rotated.

Born to a publisher in Paris on September 18, 1819, Foucault studied medicine, but had to give it up after developing a fear of blood.

Soon after, he started his career as a physicist by assisting Alfred Donne and Hippolyte Fizeau.

He first made a name for himself when he proved that light travels more slowly through water than in air. The experiment came to be known as the Foucault–Fizeau experiment.

In 1851, he created a lot of sensation by creating the Foucault pendulum, which was first exhibited in the Meridian of the Paris Observatory.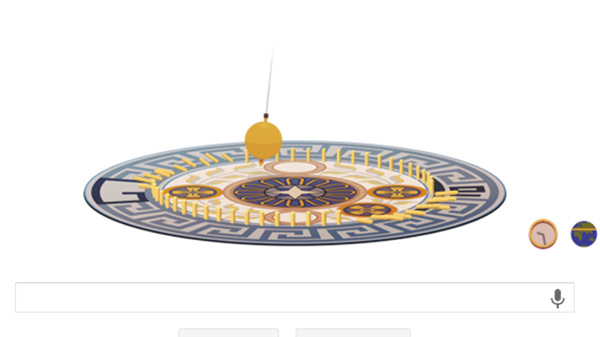 It was the first demonstration of the Earth's rotation that did not involve celestial observations, and it sparked a "pendulum mania" across Europe and United States.

The original pendulum consisted of a 28kg brass-coated lead bob and was suspended from the dome of the Pantheon with a 67-metre long wire.

In 1852, Foucault named the gyroscope, a device for measuring and maintaining orientation. However, he did not invent the device.

In 1858, he devised a method of testing the mirror of a reflecting telescope to determine its shape — the so-called Foucault knife-edge test which is still used in amateur telescopes.

Foucault's achievements paved the way for his association with several top scientific socities in Europe, including the Bureau des Longitudes, the Royal Society of London and the Legion d'Honneur.

The physicist died of multiple sclelrosis on February 11, 1868 at the age of 48.

He has been buried in the Cimetière de Montmartre in Paris.

His name features on the Eiffel Tower along with 72 French scientists, engineers, and mathematicians whose names are engraved on the monument. The asteroid 5668 Foucault has also been named after him.