Google made the announcement on Google Plus page saying: Our doodle in Greece today celebrates Karolos Koun, theater director and founder of the experimental Art Theater, who was known for his bold, expressive stagings of Aristophanes' comedies and other ancient Greek plays. The doodle showcases a colourful staging of an ancient play and can be viewed on the Google Greece homepage: https://www.google.gr/
Koun is also known for his productions: Henrik Ibsen's The Wild Duck (1942), García Lorca's Blood Wedding (1948), and The Glass Menagerie (1947) and A Streetcar Named Desire (1949).
Karolos Koun was born in Bursa (a city now in Turkey) on September 13, 1908. He then moved with his family to Istanbul. In 1928 he studied aesthetics at the Sorbonne and later moved to Athens where he was an English teacher and directed his first few plays.
In 1942, he founded the experimental Art Theater. The Art Theatre nurtured Greek playwrights and acquainted the Greek public with the works of playwrights like Tennessee Williams, Arthur Miller, Bertolt Brecht, Eugène Ionesco, Samuel Beckett and Thomas Bernhardt. The plays by these playwrights were premiered in Athens thanks to Koun.
"We act to enrich ourselves, the audience watching us and we can all help to create a wide, rich and mentally upright culture in our country. Art Theatre is a lifetime event," he once said.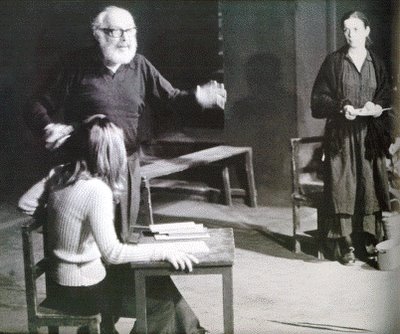 Aristophanes' most popular comedy The Birds was presented by his Greek Art Theatre in 1959 at the Herod Atticus Odeon.
Koun brought together artistes like Ralou Manou and Zouzou Nikoloudi for the choreography, Vasilis Rotas for the translation, Manos Hadjidakis for the music, Yannis Tsarouchis for the costumes. Each of them was a master of his craft and the play managed to be a hit because of its mix of colours, rhythms and melodies.
The play created a furore because of its avant-garde style.
In 1962, it won first prize at an international festival in Paris.
At 78, Karolos Koun died on 14 February 1987, after suffering a heart attack.
Watch The Birds, in this video