With this latest move the stock image giant opens its database for use to all at absolutely no costs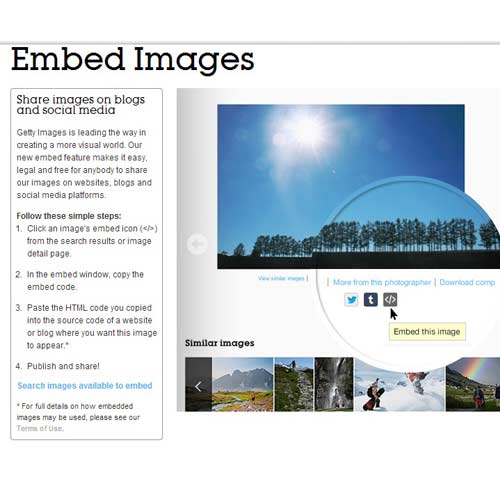 The onslaught of the Web 2.0 and beyond has proved to be a crucial ally for amateur and professional photographers alike. However, this very technology that makes sharing content across the internet easier, has also simultaneously escalated the issues of credit, payments and copy rights.
A photo dealing company like Getty would know. From being used illegally in high profile creative campaigns to viral internet memes, to even in the much illicit darker corners of the web, Getty has had to face violations of its copyright content, obviously costing the company profit in dollars.
If we can't beat them, let's join them
To tackle this very issue of image copyrights and credit, Getty has now launched 'image embedding' services. This will essentially allow users to procure an HTML code from available stock image and add to their blogs, website and even post on Twitter.
NEW: Getty Images Embed lets you share tens of millions of images - try it out here! http://t.co/177dlf43Qu #gettyinfocus #embed

— Getty Images (@GettyImages) March 6, 2014
In a special tie-up with Wordpress, Tumblr, and Twitter, it has created easier access to their database for users.
Here's how it will work:
Below the selected image, now users will have the option to either tweet, share on Tumblr or source the HTML code to embed into their posts.
Accordingly, you can select the appropriate option or just source the HTML code and add it to your posts.
And this is how an embedded photo will appear: