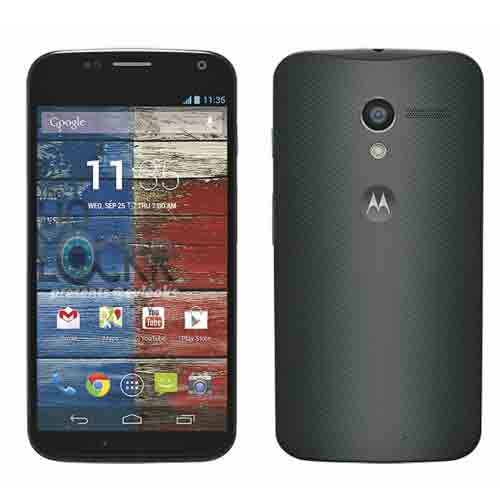 Big news! The #MotoX will start at Rs. 23999 and is releasing tomorrow! #MotoOnFlipkart http://t.co/LrWqTuHXuE pic.twitter.com/KvEcEud9ne

— Flipkart (@Flipkart) March 18, 2014
Flipkart finally announced the arrival of Moto X with a price tag of Rs 23,999 for Indian markets. The online conglomerate took to twitter and announced the big news. Moto X will be on sale from 19th March 2014 on Flipkart and various schemes have been launched to promote the product.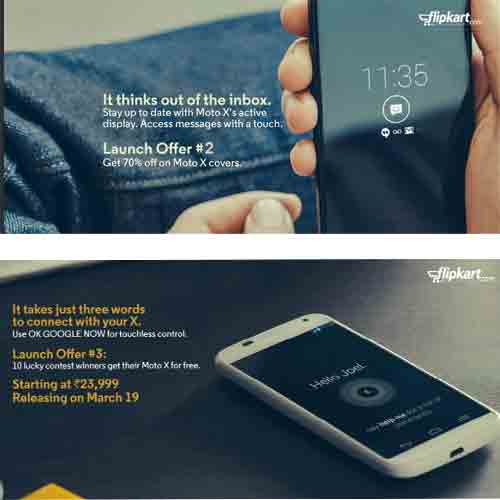 The Moto X is coming soon... stay tuned for exclusive launch day offers! #MotoOnFlipkart pic.twitter.com/EBE5FFWbWb
— Flipkart (@Flipkart) March 13, 2014
Also, Flipkart announced that only the single sim version of Moto X will be launched for Indian markets at competitive price range. Flipkart also confirmed on Twitter that the 32GB variant of the Moto X has not been planned for India and the e-commerce website will only be selling the 16GB model of the Moto X in India.
We'll be selling 5 colour variants priced at Rs. 23999. The wood back versions will be priced at Rs. 25999. #MotoX #MotoOnFlipkart

— Flipkart (@Flipkart) March 18, 2014
After launching Moto G smartphone, E-commerce giant Flipkart, has now announced the launch of Moto X in the Indian smartphone market. It will be launched exclusively on the website Flipkart.com, and a number of launch day offers are in store too in order to leverage exclusivity and increase sales.
But on the flip side, features such as the online studio Moto Maker will not be available for customers in India (A feature that allows users to customise their Moto X devices with over 2,000 possible combinations).
The single-SIM version of the device is being brought to India by Flipkart. Users will get to choose from colour options such as black, white, royal blue, cherry, and turquoise.
Flipkart is also providing 50 GB of Google Drive storage free of cost for two years to consumers. The announcement was expected as Motorola sent out a tweet in February about the launch of the phone.
Ready for the hunt? #BuggyNight is coming to your #MotoX soon: http://t.co/hIvQOMyzRp pic.twitter.com/MiFAtzFuR9
— Motorola Mobility (@Motorola) February 26, 2014
Going by Moto G's performance, we surely expect Moto X to perform exceptionally well with all the added features. We only hope that Online studio Moto maker is brought in for Indian users as an added bonus!
Tech key-specifications:
Screen resolution: 4.7 inch HD touchscreen display (720×1280 pixels resolution)
OS: Android 4.4 KitKat operating system
RAM: 2 GB RAM.
Internal memory: 16 GB
Camera: 10 mega pixel autofocus rear camera with LED Flash
Connectivity: Bluetooth 4.0, Wi-Fi (with Wi-Fi hotspot), Near Field Communication
Battery: 2,200 mAh battery
Release date: 19th March 2014
Pricing: Rs 23,999/-
Watch the advertisement here:
Also check out a video review by Youtube user:
Also read: Moto G launched in India for Rs12,499, gets sold out on Snapdeal in two hours