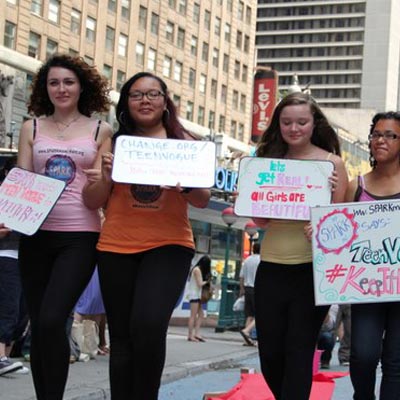 "We like Google Doodles a lot, but we couldn't help but notice that, like a lot of other places where we learn history, they felt a little…male. And white."
That's what those heading a 'girl-fueled activist movement to demand an end to the sexualization of women and girls in media' felt.
So the team at Spark did some research and analysed Google Doodles from 2010 to 2013.
Their findings are interesting and make for a story. Here's why:
- Google celebrated 445 individuals in Doodles on its various homepages throughout the world.
- An overwhelming 357 of those people were men–and 275 of those men were white.
- 77 Doodles celebrated women–but only 19 celebrated women of color.
Here's those numbers, year by year, in a chart:
More interesting facts include:
- There were zero women of color honored in a global Doodle (Doodles seen everywhere around the world) until 2013, when Ella Fitzgerald was featured.
- Although women make up more than 50% of the world's population, they've made up only 17% of Google Doodles honoring people from 2010 to 2013.
- White people made up 91% of global Doodles and 74% of total Doodles honoring people from 2010 to 2013.
- Of the 26% of Doodles honoring people of color, only 18% honored women of color–that's only 4.3% of every Doodle honoring a person from 2010 to 2013.
So what's the problem here?
The group says Google Doodles are as powerful as textbooks, classrooms, and museums. These places teach us History, just like Google Doodles do. Those cute, fun animations and sketches that appear on Google homepages "may seem lighthearted, especially when they're accompanied by quirky games and animation, but the reality is that these doodles have emerged as a new manifestation of who we value as a society—a sign of who 'matters.' Just like statues, stamps, and national holidays, you know that if someone is featured on Google's homepage, they've done something important," says SPARK activist Celeste.
The group believes (And we believe they're making a point): The achievements of women and people of color are continuously written out of history–we learn in and out of school that white men have built pretty much everything in this world, and that's just not true.
Think you want to support the cause?
Then you can tweet with #DoodleUs and tell Google to "get real about history and to stop contributing to the dangerous fiction that white men built and did everything worth remembering".
Is this something no one ever noticed before?
Well, no. And Spark has acknowledged that. PhD student, Ann Martin highlighted this in an open letter addressed to the Google leadership and Google Doodle team in 2011.
She wrote: Google Doodles highlight role models in science, technology, the arts, and the humanities, but a quick look will show you that the people you have chosen to honor do not represent the full spectrum of humanity. In particular, you have work to do to make Google Doodles equitable in their representation of women and people of color...
For years, I have watched Google Doodles contribute to the viewpoint that it is men who create the world we live in and innovate to improve it. I continued to hope that Google would recognize and address this obvious bias. Because you have not spoken up for the women in STEM, creativity, innovation, the arts, and the humanities, I am speaking up for us.
Responses to the #DoodleUs petition on Change.org:
Stuart Chen-Hayes PLAINSBORO, NJ: Since people of color are about 86% of the population, and google claims to "do no evil," it's time to step this up and make doodles affirming of the world's populations by gender and ethnicity/race in fair proportions!
Karen King SALEM, VA: I'm signing because there is more to the world's population than just white men. I am woman hear me ROAR!!! I'm standing up for women of ALL color.
Ethmer T. Rader, Jr. ANCHORAGE, AK: Though a white American male, i think it is important to more accurately portray the diversity of the world population's individuals to those using the internet — especially to the youth of the world who will soon be our leaders. What we "feed" them today will determine their character tomorrow!