Google commemorated India's 67th Independence Day by dedicating a doodle on its India homepage on Thursday.
Inspired by the Indian flag, the doodle features a tricloured ribbon spelling out the word Google on the home page.
However, the search engine received a lot of flak for wrongly using the colour yellow instead of saffron in the doodle.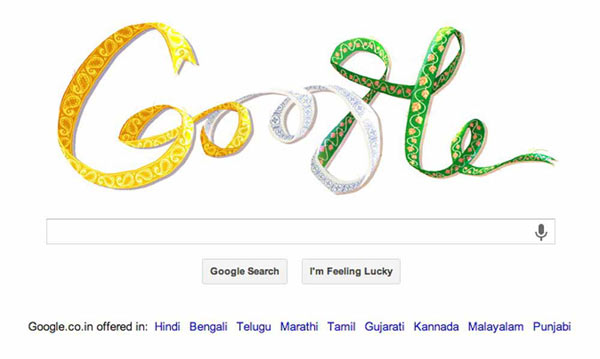 Microblogging site Twitter was agog with people pointing out the faux pas on part of the biggest search engine.
good of #google to put #tiranga colours on the #doodle. but hello, our first stripe is SAFFRON not yellow pic.twitter.com/o6h2ApMSXG

— Rohit Bansal (@therohitbansal) August 15, 2013
Dear @google ur Indian Independence day doodle is creative! But the yellow colour is inappropriate! change it!

— jeffshawn (@jeffshawn) August 15, 2013
Google don't know Colors in Indian flag. See Goolge's doodle on Independence day. 'Jai Hind' @priyankac19 @MrsGandhi pic.twitter.com/dDv0UnrCB1

— Ekalavya (@ekalavyamra) August 15, 2013
Google disgraced our Independence day.The ugliest google doodle ever... its saffron u idiots not yellow.

— Gowtham (@1andonlygowtham) August 15, 2013
Barring the yellow color, today's Google Doodle looks really good.. #Google #independenceday #15Aug #India

— Danish Khan (@DanishKh4n) August 15, 2013
The google doodle for Indian Independence day is lovely , but as far as I remember the first color on the tricolor is Saffron , not Gold! :)

— Rahul Banker (@bankerrahul) August 15, 2013
On the @google Independence Day India doodle where there should be saffron, there's yellow. @GoogleDoodles

— Soumyadip Choudhury (@soumyadip) August 15, 2013
Hours after the mistake was pointed out, the Google team changed the colour to saffron.
Google has been commemorating India's Independence Day with a doodle on its home page since 2003.
While most of the Google doodles were inspired by the national flag, the 2011 and 2012 doodles used other national symbols in place of the Tricolour.
In 2011 a sketch of Delhi's Red Fort took guard on the Google home page on August 15 and in 2012 a peacock curved its neck backwards to form the 'G' of the Google logo.