An economical app, spotNsave uses the latest, yet simple technology to keep the user safe.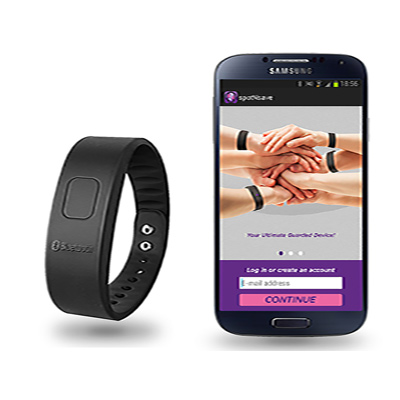 A wearable security device, spotNsave can with the click of a button, your friends can be alerted in case you are in any danger. The device consists of a Bluetooth wristband with a SOS button and an emergency app on your smartphone. The app can send location information to your friends in the event of an unfortunate incident.
Purchased by many women and senior citizens in India, this device is a band for Android and pendant for iOS.
Chirag Jagtiani, CEO of spotNsave reveals how he first decided to make the app, "In 2005, someone I know was kidnapped while travelling overseas. That changed my entire life and since then I always wanted to do something related to personal security. I wanted to build a security device but didn't know how to do it. Then, when I was working with Accenture, we were consulting for Boston Scientific for a global pacemaker device. The pacemaker was connected to a phone via Bluetooth and that's when it struck me – if a heart can have a Bluetooth device why couldn't a wrist have the same? That instilled the confidence to begin building something like spotNsave."
When it comes to women's safety and government measures to ensure the same, Jagtiani said, "I would read of the increasing incidences of rape in the papers. The government would make tall claims about making cheap SOS phones that cost Rs 500. But the truth is, phones are expensive and not everyone can afford them. So I decided to make something economical that everyone could buy and use. I began work in November 2012 in the city of Guangzhou and Hong Kong with a team of four. We were ready by August 2013 and we launched in December 2013."
The Delhi and Mumbai gang-rapes which received a lot of media attention made many women carry pepper sprays and other devices to stay safe. In one month just by word of mouth, spotNsave has seen 178 devices sold which have mostly been brought by women, parents for the children, children for their elderly parents, etc.
Jagtiani said, "A man living in Bahrain purchased the band for his autistic son, since he is always worried about his son's whereabouts. This app was meant for safety of people and I'm really glad that it is benefiting so many people."
Help just a click away, this app and device is proving to be a blessing to many people not just in India but also around the world.
Watch the video of the app: