Twitter Inc announced today that they have updated their user interface with a new addition: A blue line that will visually help users read exchanges on Twitter by connecting them to each other. According to the official blog, Twitter admitted that, "To date, exchanges haven't always been easy to follow. With this in mind, we've now made it easier for you to see conversations as they're taking place."
This means: Tweets that are part of a conversation are shown in a chronological order so it's easier for users to follow the entire thread.
Up to three tweets in sequence will be showcased in the home timeline, and those who want to read the complete thread can tap a tweet to see all the replies, including those from people they don't follow. This will also mean that old tweets will show on the timeline if someone you follow replies to them at a later time.
"It's so hard to find new tweets now because anything that's part of a conversation goes straight to the top. I bailed on Facebook when it became jumbled and congested, I'll do the same with Twitter. People like Twitter because of its simplicity. Your update is garbage," posted a user on YouTube.
The new feature is being rolled out to all users today.
Initial reactions to the new blue line haven't been very nice, like they are with most early reactions to interface changes on websites.
Blueline is almost like being forced to listen to your relative about his son's achievement.

— Sambha (@sambha_bhilane) August 29, 2013
The new move comes at a time when tools like Storify were being used to share long threads of Twitter conversation. In addition to the blue line, Twitter will also allow users to share these conversations over email — with friends who don't have to have a Twitter ID.
The change will show on updated versions of the Twitter app on Android and iPhone too.
This is what your timeline will look like when the conversation is longer than 3 tweets. A dotted line indicates there's more to read.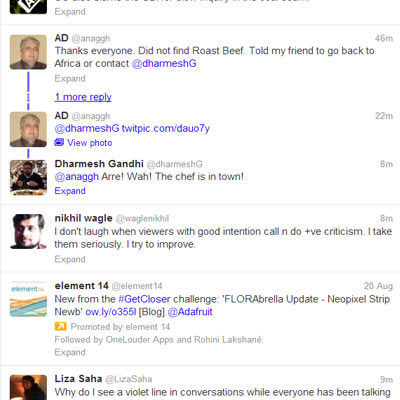 Other updates to the Twitter app include:

And while everyone has been calling it the "blue line", it may not be blue on all screens and will change according to the theme the user has installed.