India has come of age when it comes to online shopping. Many Indians are turning towards this easier mode of purchase which is less time consuming and comes with better bargains.
However, it is also turning out to be an easy hunting ground for opportunistic cybercriminals. Scammers and fraudsters are once again doing the rounds with out-of-the-world offers and speedy deliveries to users' doorstep.
According to computer security software corporation Symantec, third-party mailers and spammy domains that are recently registered in TLDs (top level domains) are being used for nefarious web activities.
Examples of spam:
Subject: This Diwali Gift Bxxxx – A Rare Collection of Modern & Stylish Home Utility Products
From: "Bxxxx" <edm@XXXXX.co.in>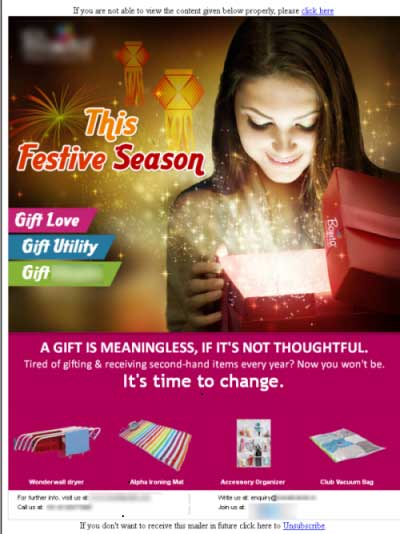 These spammy websites eventually shift their gear to phishing, where the user falls into the trap of paying for chosen items in the cart with their debit/credit card details.
Some important points to remember:
* Avoid shopping at unknown websites
* Be careful while clicking on offers from forwarded messages
* Do not fall for discounts that turn out to be scams
* Be attentive when doing payments
* Unsecured personal smartphones and mobile devices make online shopping more dangerous
* Beware of third party online shopping applications for your hand held devices that can infect it with malware
* With the increasing use of such utility devices to do online purchases, booking of tickets, shopping, payments, and storage of personal data on-the-go.