In order to create awareness about climate change, President of the United States of America, Barack Obama launched an open data initiative called 'climate.data.gov'. This interactive website has various tools, maps and sections, where a list of relevant information to tackle climate change has been put out for public.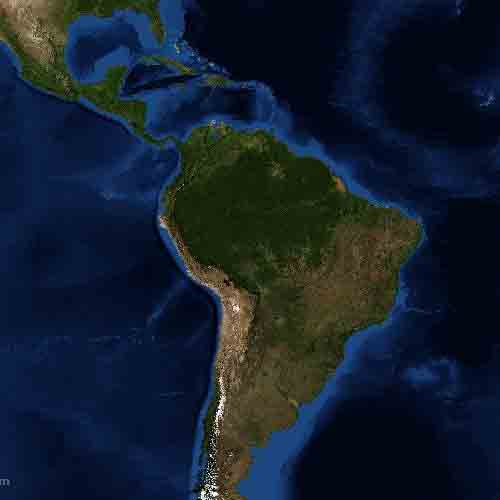 President Barack Obama and the White House on Wednesday inaugurated the website 'climate.data.gov' which is aimed at turning scientific data about projected droughts and wildfires and the rise in sea levels into eye-catching digital presentations that can be mapped using an app as per a report by New York Times.
President Barack Obama said "if Congress won't act on the issue of climate change, I will. I ask you to support my plan and take action in your own community now," on his website.
The app related to 'Climate data' will be a powerful tool, allowing local governments or home and business owners to type in an address (similar to Google Earth) to see results about how climate change can affect them. For example, if there is a rise in sea levels, people can determine if there will be flooding in their city or town.
It will include data which was not previously released that maps hundreds of thousands of US bridges, roads, railroad tunnels, canals and river gauges.
Currently, the project is in testing phase and seeks inputs from Americans to leverage the 'open data' source and generate relevant reports.
NASA and the NOAA will call on researchers and private companies to create software simulations illustrating the impact of sea level rise as per USA Today.
The Sections on the website include:
1. Climate: The section mentions availability of data on climate change to help prepare communities to face coastal flooding, sea level rise and their impact.
2. Data: There are various data-sets found here which include reports on population estimates, NOAA's Inundation Analysis Tool among other tools for public usage.
3. Maps: Geo-platform maps which provide accurate details of flooding, weather changes are provided.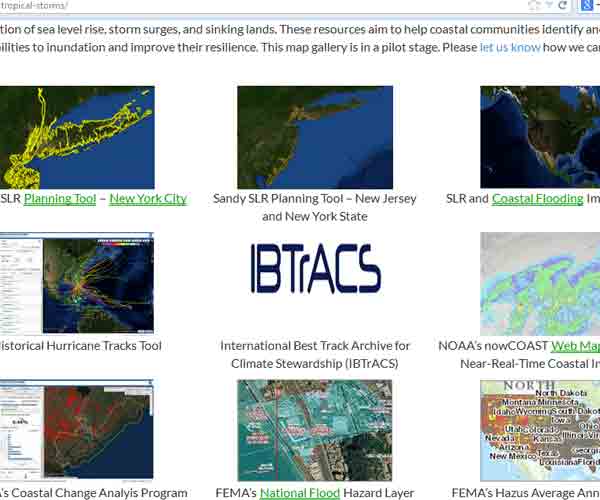 Also various tools are available for public usage: Below is a dekko of some of the tools:
-CanVis: A visualization program used to "see" potential impacts from coastal development or sea level rise.
-Climate Resilience Evaluation and Awareness Tool (CREAT): Provides information on climate impacts to assist water utilities to assess future risks and vulnerabilities.
-Coastal County Snapshots: Turns complex data into easy-to-understand stories, complete with charts and graphs.
-Hurricane SANDY Response Imagery: This rapid response imagery product was generated for use by emergency managers for visual analysis of damage in the Sandy impact area.
Inundation Analysis Tool: Helps in determining the frequency (or occurrence of high waters for different elevations above a specified threshold) and duration (or the amount of time that the specified location is inundated by water) of observed high waters (tides).
-Coastal Change Hazards Portal: The U.S. Geological Survey is uncovering the science behind coastal change hazards and providing data, tools, and scientific knowledge to help coastal planners as they work to reduce risk along our coastlines.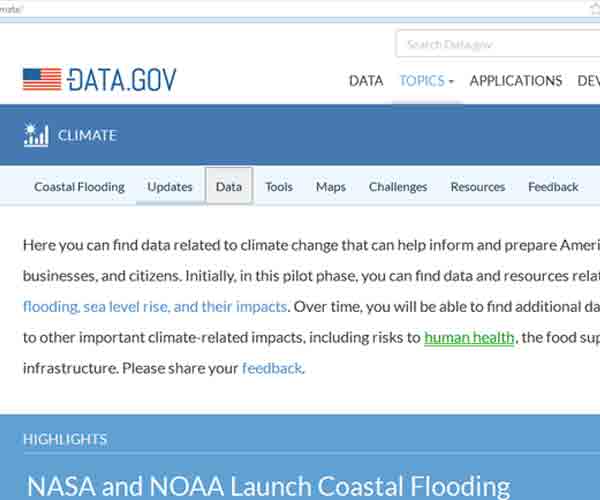 Google, Intel and Microsoft pool in resources to support the US government in this initiative:
1. Google: Will create high-resolution drought mapping for the mainland United States as part of a White House effort to prepare for climate change.
2. Microsoft: Will donate a total of 800 terabytes of cloud storage to 40 climate-change research projects.
3. Intel: Will host three climate-change hackathons this year to support the initiative.
Why open data?
After the US government got involved in a series of incidents of hacking, surveillance and obtrusion and NSA contractor Edward Snowden's leaks, Barack Obama has taken steps to make open data technology prominent to public. This may or may not be a way to improve accountability but public can definitely benefit from this.
Open data is an idea that certain data should be freely available to everyone to use and republish as they wish, without restrictions from copyright, patents or other mechanisms of control. The goals of the open data movement are similar to those of other "Open" movements such as open source, open hardware, open content, and open access.
Below is a video explaining the concept of Open data:
: