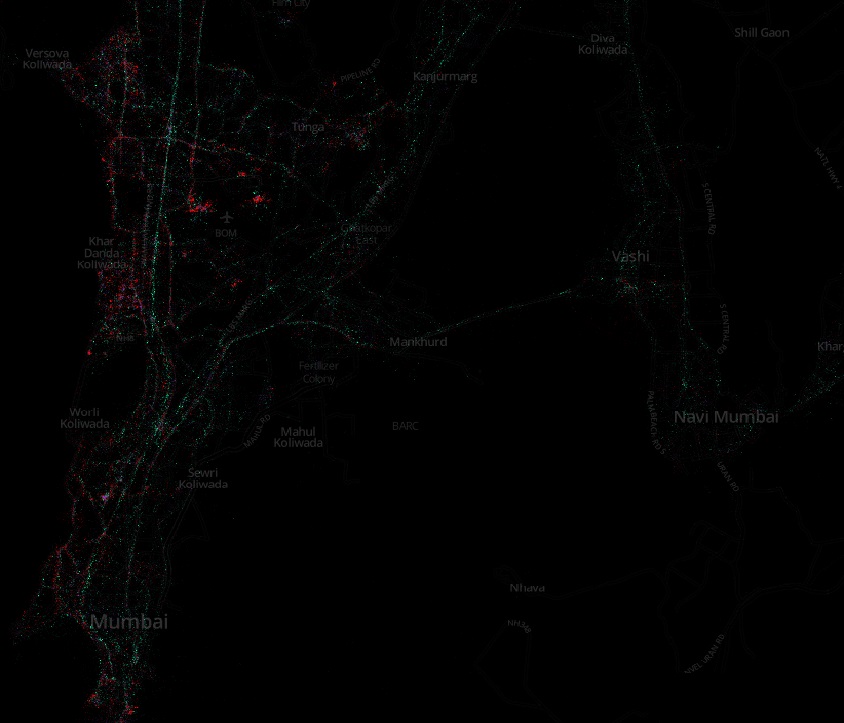 So Apples are indeed for the elite and Android for the mango (read common) people.
According to mobile market research firm Monetate, Android has 80% of the market share in a number of countries. Take that Apple Jedi. But Apple users are considered to be about 4 times more valuable than their Android toting counterparts, considering 87% of tablet visits to e-commerce sites come from Apple users, whereas only 11% come from Android. A similar finding has been made with regard to phones, 60% v/s 39%. A triumphant "HA" resounds from Genius Bars everywhere.
However, when Mapbox released global maps depicting the territorial distribution of Apple and iPhone through the location of their Twitter posts, a finding was uncovered that shocked just about nobody- Rich people use Apple. EGAD!
No truly, we mean it. Rich people use Apple. For example in the Miami area, the affluent tanners on the Miami Beach strip are highlighted by a telling red, whereas the trailer park areas by green, representing Android users mind you, not the sale of particular leafy substance.
But what about India?
Or more specifically Mumbai? Do we subscribe that stringently to the divide dictated by neighbourhood affluence? As it turns out, yes we do.
For all the smug habitants of the western line, rejoice! There are more iPhones. The coast is almost sharply highlighted by a strip that consists primarily of Apple and Blackberry users, with large concentrations around the Phoenix Mills, because when we buy something, by god Twitter needs to know. Also around the airport, two predominantly red clusters. The expanse of the central and harbour suburbs almost exclusively green.
Delhi seems to be on board with the idea too, with typically affluent areas like Gurgaon possessing great numbers of Apple handsets as well as a few sprinklings of Blackberries- one of the last few reserves of the suit/American Eagle wearing Blackberry Boys. East Delhi as well as the north classified by a sparse sprinkling of Android. The phenomena can be observed in Chennai as well as to a certain degree in Bangalore.
Although, none of them even touch the divide seen in Bombay. How to explain it though? Real estate prices? Because it seems a bit more important than things like people fighting over their little black rectangles. It can't even boil down to the ever puerile yet entertaining "Harbour line sucks bro.." argument. Because honestly, they have really well planned roads. If we consider that this map is formed by the basis of Tweets sent out and not technically the number of handsets used, it might just reflect more than economic status.
Since Android has an overall larger market share and still, Apple users have a strip of our city almost exclusively to themselves, it might reflect an entire community's attitude to media as a whole and slightly more debatably, the overall level of technological know-how, dictated solely by a household's income if the significantly higher price of an Apple handset is factored in. Tier two cities do have a recognizable number of users, but a large portion is a black expanse without a Twitter handle in sight.
In an age where what we own becomes not an extension but a representation of ourselves, we might just need to stop driving a little man to exhaustion on our phones through endless terrain and pay a bit more attention to what a mass produced piece of metal and plastic might mean for a large number of India's population.
In the meantime however, we can use our phones to consult the location of Juinagar. An Android user might just be able to tell you.