Apple at its event in San Francisco's Yerba Buena Center for the Arts yesterday unveiled the iPad Air which is 25% thinner than the previous one.
The company boasts heavily about this new thinner, faster and lighter tablet at the event.
The iPad has a 9.7″ Retina display, with a bezel 43% smaller than previous versions. It's just 7.5mm thin, 25% thinner than the previous device.
It weighs just 1.0 lbs compared to the last one which weighs around 1.4 lbs.
Senior vice president of worldwide marketing at Apple Inc, Phil Schiller said in the keynote, "It's the lightest full-size tablet in the world."
Like the iPhone 5s, the iPad Air has Apple's new M7 motion processor with the brand new A7 chip.
Schiller claims that this makes the iPad Air 8 times faster and the graphics performance 72 times faster than the original iPad.
For the first time and iOS device comes with MIMO (multiple-input and multiple-output) support.
Specifications:
* 5MP iSight camera
* 1080p HD Video
* New FaceTime HD front camera
* Improved Backside illumination
* Dual microphones
* Comes in silver/white, and space grey/black
Latest Apple iPad Air gets favourable reviews from tech geeks

The iPad Air will start to be shipped from November 1. For the first time, China will see an iPad launch on the same day as everywhere else in the world.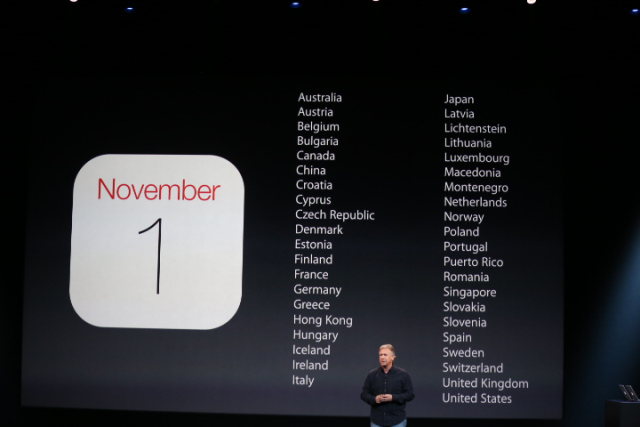 India's launch date has not been confirmed.
OS X Mavericks for free!
Apart from the iPad, Apple also announced that OS X Mavericks will be available for download from yesterday with no additional cost. So you can get your Macs upgraded today!
New version of iPad Mini
Apple also announced a new version of its iPad Mini.
Its 7.9 inch (20cm) retina screen has been upgraded to feature 2048 by 1536 pixels - the same as the larger model. The new iPad mini is also running on the new A7 chip. This new version will launch somewhere later in November. However, no confirmation on its India launch was given.
It is available in the same colours as the iPad Air silver/white, and space grey/black.
The original iPad Mini will stay on sale, dropped from $329 to $299. The new iPad Mini with Retina will sell for $399 for the 16gb WiFi model.
Apple sold 170 million iPads since debut in 2010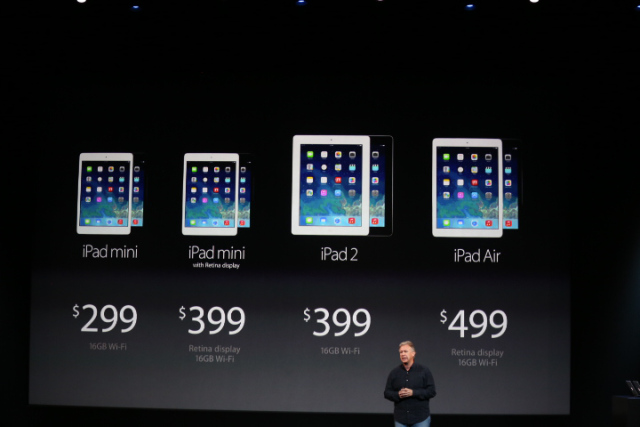 They're also shipping new iPad smart covers: $39 for one that protects the screen, $79/$69 for one that protects the back as well (iPad Air/iPad Mini respectively)
Apps
Apple's senior vice president of Internet Software and Services, Eddie Cue talks about all the new additions and upgrades to the App store.New versions of iLife apps like iPhoto, Garageband and iMovie were revealed. All of these iLife apps are getting 64-bit updates on iOS as well. All of these new versions are available for free with any new mac or iOS device.
New apps like iWork and Keynote were revealed. All iLife and iWork apps will be free, and you can download them today.
Apple App store reaches 1 million apps milestone

Since Apple launched the iPad three and a half years ago, 170 million iPads have been sold.""Now, everyone seems to be making a tablet. Even some of the doubters! Regardless of what you may hear, or read, about how many are sold or activated, iPads are used more than any of the rest. And not just a little more — a lot more! iPads are used 4x more than any of those other tablets put together," Tim Cook said.
One very interesting statement that Tim Cook made at the event was, "When you make a great product, with a great experience, this is how you know it. People use it."
Apple launched the iPhone 5S and iPhone 5C last month. The phones broke many records with selling 9 million iPhone 5S devices just in the first weekend.
With the iPad Air being as thin as a pencil and the A7 chip making it 8 times faster, the sales of this new product could break all records of its predecessors.
Post your views, comments and queries on iPad Air and other announcements at the event below.