"There isn't much I would stand in line for," enthused 24-year-old Chaitanya Chainani from Wadala. After 2 hours of waiting in line, he finally held the iPhone 5S in his hand.
Mumbai's Phoenix Mills in Lower Parel was one of the selected venues of the launch. The event was supposed to start at 5pm. People were queuing up since 8am. Dhanteras was a smart occasion to launch the two new Apple devices.
Chaitanya has been an Apple loyalist since he can remember. His 17-year old brother Nihal bought the 5S too. " It's my Diwali gift and his birthday gift. This is my thrid iPhone," he said.
Dhanteras is essentially famous for gold purchase among consumers. However, yesterday saw people waiting in line for their new iPhones rather than outside gold shops.
At the Lower Parel launch, the phones were sold out in just three hours. The gold version of the iPhone was sold out even faster and many consumers were forced to buy the silver one.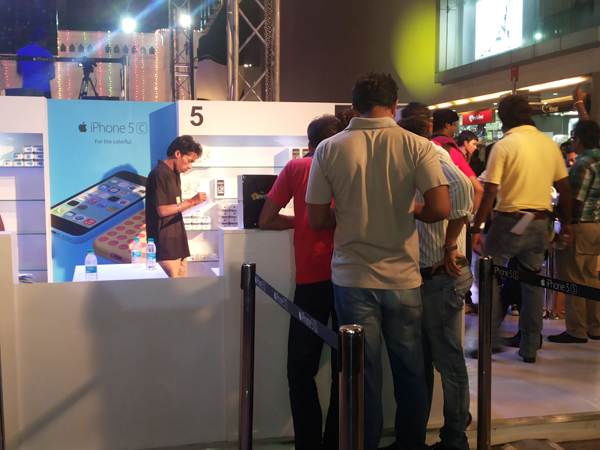 Customers were asked to register online for an exclusive pass to the launch. Once users had registered their details at the iPhone's official website for India, they were informed of the exact details of the launch and sent passes for the same.
Almost 300 units were sold in just two hours, according to a source present at the venue.
The 5S was clearly the favourite in the crowd. Almost everyone was walking away from the event with the 5S.
"My boss is busy, so I stood in line for him. We have been here since 11am," said the driver of an iPhone 5S buyer while standing in queue.
The enthusiasm in the crowd never died down. Couples gifting each other, families buying it for Dhanteras or tech geeks waiting to get the new finger-print technology were all patiently waiting for their turn.
"It's a status symbol," said KC college student Kavisha Angara who bought along her whole family to buy the iPhone. This was her first Apple product and she could not wait to get her hands on it. Kavishaa was just echoing the voice of many waiting in the line.
Bangalore's UB city also saw the response. The lines were equally long and the phones were sold out in a matter of hours.
Mad rush at #iPhone 5s & 5c launch at Bangalore. Gold Series sold out pic.twitter.com/Uc8kLjLTCn

— Lakshmi Rajan (@lakshmirajan) November 1, 2013
The very first iPhone 5c was sold only 10 mins back, which must be like after 200+ people who bought the iPhone 5s #bangalore
— Raju (@rajupp) November 1, 2013
The iPhone launch events were also held in Hyderabad, Ahmedabad, Delhi, Ludhiana, Pune, Chennai, Gurgaoon and Kolkata. The event got the same enthusiastic response from the crowd in al cities.
iPhone 5s in Delhi. Card machines heat up, stop working. Nearby ATMs run out of cash. Wonder what will happen when the free scheme kicks in.

— Diptakirti Chaudhuri (@diptakirti) November 1, 2013
Massive lines in almost every iPhone launch in the country and Delhi switching to cash because card machines are dead! #HappyDiwali

— Shiladitya M (@shiladitya) November 1, 2013
Gold iPhone sold out in Delhi as well. No word on numbers. Moved onto cash only coz credit card machines are dead. pic.twitter.com/RlEzS1ux3m

— Dhruv (@DhruvBhutani) November 1, 2013
iPhone 5S #pune launch pic.twitter.com/0mxpSR8NMy

— Mohit Athwani (@UIMohitAthwani) November 1, 2013
Price:
iPhone 5C: Rs41,900 and Rs53,500 for the 16GB and 32GB models, respectively.
iPhone 5S: Handsets are priced at Rs53,000 for the 16GB model, Rs62,500 for the 32GB model and Rs71,500 for the 64GB model.
Reliance and Airtel have launched introductory offers for the new iPhones.

Reliance has announced two offers, Rs 2,599 per month for the iPhone 5c and Rs 2,999 per month for iPhone 5S, both for a duration of 24 months, which include handset cost, unlimited local and STD calls, SMS, national roaming and 3G data.
"The Apple iPhone has been a dream for users in India and overseas, and it is our endeavor to grow this market and make every Indian's dream come true with RCOM's compelling and affordable iPhone ownership plan— No down-payments. No bills for 24 months," said GurdeepSingh, president and CEO, wireless business of RCom.
Airtel is offering a 50% reduction on monthly rentals that could help customers save up to Rs12,000 per year. Airtel's plans on both iPhones start at Rs600, which includes 500 free local minutes, 300 local and national SMS, and 200 MB of 3G data, while the highest plan at Rs2,000 comes with 1,500 free local minutes, 600SMSes, and 3GB of 3G data.
Was it worth the wait? " Absolutely," said Chaitanya as he walked away with his new iPhone .
No Apple employee was willing to divulge any information. The actual number of sold units will only be known in the next few days.