Even as enthusiastic users await Apple's newest offering of the iPhone 6, images of what are believed to be prototypes of the latest model are being circulated on the internet.
Most recent among these 'leaks' is that by the French website Nowwhereelse.fr, which shows images of what is presumably the new iPhone 6 battery, which they claim to be sourced from a Taiwanese website.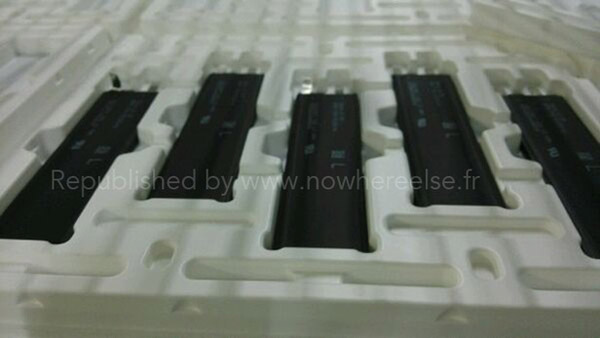 (Picture credit: Nowwhereelse.fr)
Noting the batteries' design, which is different from that of iPhone 5S, the website suggests that this could mean the new iPhone could have been significantly altered internally. It also speculates that the new smartphone might be announced in three months.
Earlier, the same site had reportedly featured leaked images of the iPhone 6, showing rounded edges and a slimmer profile. And if rumours are to be believed, the new iPhone could be named the iPhone Air.
Also, take a look at the many faces of the iPhone 6—from fake renderings to leaked body parts.
And a few more 'leaks' on social media:
This leaked photo supposedly shows the iPhone 6's bigger screen: http://t.co/3e6j8T8P4C pic.twitter.com/1RdKhdpyrg

— Jay Yarow (@jyarow) April 15, 2014
#iphone #iphone6 Awesome iPhone 6 renderings based on leaked schematics http://t.co/FbeHcOz8NN pic.twitter.com/5424uQxHGv

— iPhone & iPad Fans (@iPhoneiPadFans) April 9, 2014
iPhone 6 Photos Made From Leaked Blueprint: First look at iPhone 6 http://t.co/PRheXWTqrJ - pic.twitter.com/HkyXXY38my

— Thomas Marzano (@ThomasMarzano) April 2, 2014
Possible iPhone 6 pictures allegedly leaked from inside Foxconn (http://t.co/O5SKC7nQnB) pic.twitter.com/1lbr7zypRr

— Digg (@digg) March 31, 2014