A multitude of gadgets have become part and parcel of our daily life. However, due to continuous usage of these devices, managing their battery life becomes difficult. It it nowadays essential to have a power back-up at all times while on the go. If you are someone who travels often and uses gadgets at large, then the Portronics Power Slice power pack is the perfect device for you. Light in weight and easy to carry, Power Slice is not only handy to carry, but more importantly an immediate lifeline that your devices need.
Slim and Stylish
The Power Slice has an exquisite design and is extremely slim, much slimmer than many smartphones. The pocket friendly device weighs 75 grams with 11 mm thickness. The width of the device is 69 mm and height is 123mm.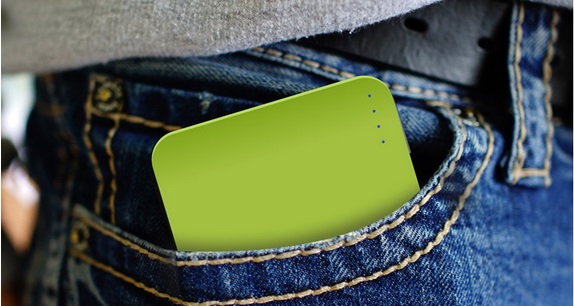 Capacity
The Power Slice has a capacity of 4000 mAh and runs on a rechargeable original lithium-polymer battery. The device comes with five circuit protection, which protects device from damage. According to the company Portronics, the device is protected even when the voltage supply is more or less than required. It is also short-circuit protected.
What devices you can charge with Power slice?

With 4000 mAh battery, you can not only charge smartphones, but also tablets, MP3 and MP4 players, Bluetooth devices, headphones, digital cameras, gaming devices and any other device which run on a battery of less than 4000 mAh capacity.
Specifications
1. Cell Capacity: 4000 mAh
2. Battery: Li-Polymer battery
3. Input: DC 5.0V – 800mA
4. Output: DC 5.0V – 1000mA (max)
5. Size: 69*11*123 mm
6. Weight: 75 g
7. Indicator light: 1 light – 0-25%, 2 lights – 25-50%, 3 lights – 50-75%, 4 lights – 75-100%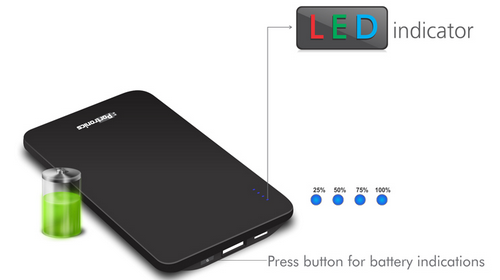 8. Scratch Proof material
Available in multiple colours
The device is available in blue, green, orange, pink, white and black and supports a unique anti-scratch design.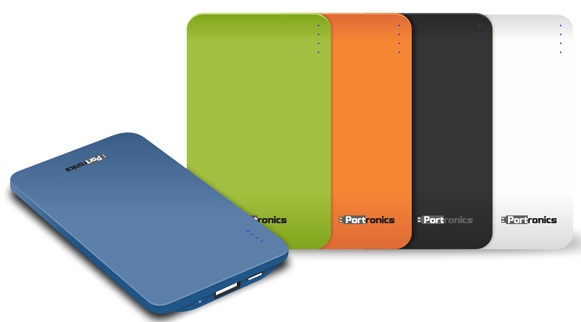 Pros
1. Good charging speed
2. Easy to operate and carry
3. Sleek design
4. Fits into the pocket like a mobile phone
5. Can connect any device with USB cable
Cons
1. Very small cable length
2. No all in one charging cable is provided with the device
Who Should Buy It
- If you always run out of battery on your devices while on the go
- If you are always away from a wall socket for charging
- If you don't mind carrying an extra device in your bag or pocket.
Who Should Not Buy it
- If you don't like to carry more than one or two devices.
- If you cannot stand a slower charger than the wall socket
- If you don't want the hassle of charging one additional device
Where to buy?
You can buy the device from several e-commerce sites or directly order it from buyportronics.com
Price: At Rs 1,499, the power back-up is worth buying. The device, however, could have priced a bit lesser.