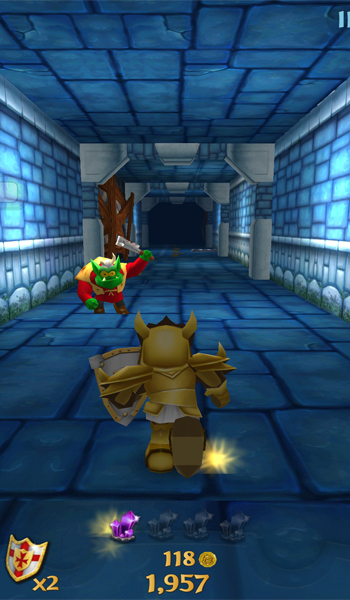 1. One Epic Knight
Simutronics' 'One Epic Knight' is another in a long line up of endless runner games. But before you go right back to Temple Run or Subway Surfer, this little guy talks. A lot.
One of the core highlights of the game being that your characters have some sharp and sometimes puerile comments to offer about his job and surroundings. Ranging from " I give that run 3 out of 5 stars" to "I don't have time to bleed" or something else every time he smashes into a wall.
The gameplay is the same as most but just a little more polished, the sword and shield mechanics provide a greater amount of interaction with the environment. And if you're still doubtful, the game even lets you find that Temple Idol we've been looking for since 2011.
2. Giant Boulder of Death
So if avoiding things bores you and you're more of a smash-into-things kind of person, fear not. There's a game for that. Adultswim's Giant Boulder of Death or GBOD for short lets you take on the role of a boulder whose boulder girlfriend was killed in the intro video. So you vengefully roll down a Swiss-esque countryside smashing into houses and cows and soldiers and trees.
Especially the trees.
The game is a freemium which means certain skins and features are only unlockable after some cold hard cash. But even otherwise its a fun game with a simple mechanic and an interesting Minecraft inspired look that you can destroy completely.
3. The Legend of Holy Archer
The archery game developed by SummerTimeStudio Co.,ltd looks gorgeous and is a bit more challenging than you'd expect most mobile games to be. The idea is simple, you get to control an arrow shot out by an iinsanely fit archer and must navigate through different terrain to find the monster at the end.
The game requires a bit of patience and yet the pay-off is pretty satisfying. By collecting different bows and arrows you get to develop a character as you progress from one level to the other.
If anything, the game needs to be tried even if it's just for the graphics and highly creative level design.
4. Plague Inc.
Ndemic Creations' 'Plague Inc' is an uncomfortably realistic simulation where you get to create a pathogen and infect the world and hopefully, by the end of your campaign, kill every human on the planet. A well spent twenty minutes indeed.
Plague Inc. lets you indirectly control the spread of your germ by making you develop different aspects of your disease and throws you a series of complex choices. Not only is the game sadistic fun, but even tends to throw a little moral backlash your way through sound clips of the people being infected.
A refreshing combination of strategy and hyper-realistic simulation, pay the game just to feel the creepy satisfaction of watching little skulls appear on your mobile screen.
5. Dark Reaper Shoots!
The grim reaper isn't really all that likeable, unless you enjoyed the last game on our list a bit too much.
Summer Time Studio came up with a really cute avatar for him however and lets you play him as you fight your way through wave after wave of enemies and loot.
The game is has an arcade style melee combat system that surprisingly doesn't get too repetitive.
The various upgradable skins and weapon keep the third person Reaper highly adaptable to the increasing difficulty levels in later stages but still never go to that forbidden place that completely alienates the casual gamer.