Samsung is all set to globally launch their much-hyped smartphone Galaxy S4 at 7pm EST in Times Square, New York.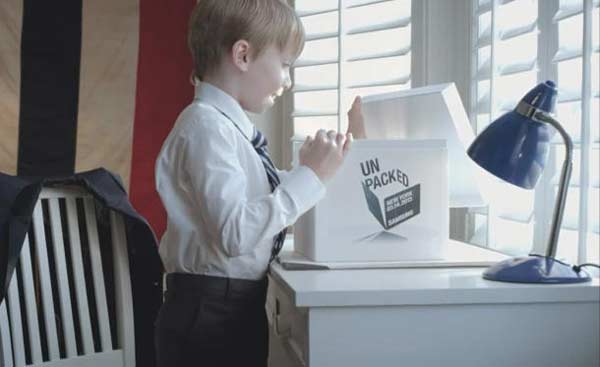 The electronics giant has gone all out with intensive promotional ads and is generating huge buzz on the online space. The live event has already garnered a huge response on social networking sites and is the phone is considered to be amongst the most anticipated releases of the year.
For Indian fans, the launch time is 4:30 am (GMT +5:30) on March 15.

Samsung had posted a video teasing tonight's 'Unpacked' event where they introduce Jeremy, a boy who Samsung says will be the "secret messenger" for its live event.
In the video, Jeremy is allowed to look inside a box that ostensibly houses the Galaxy S4, and runs home with it. At the end of the video, Jeremy sits down at a desk in his room and the video ends with a "to be continued."



The second part of the video was also released where Jeremy takes a peek into the box and is amazed by what he sees inside. These advertisements have generated quite the buzz.


Releasing a shadowy image on its twitter account, Samsung Mobile US updated, "The countdown for #TheNextBigThing has begun."

The countdown for #TheNextBigThing has begun. Who's ready for the Global Unpacked Event on March 14? twitter.com/SamsungMobileU…

— Samsung Mobile US (@SamsungMobileUS) March 12, 2013
On March 11, Samsung also had the "Unpacked 2013 crew event where there were performers dancing and celebrating the launch of the smartphone.
Our #UNPACKED 2013 crew @timessquarenyc. Be ready 4 #TheNextGalaxy. twitter.com/SamsungMobile/…

— Samsung Mobile (@SamsungMobile) March 11, 2013
Increasing the hype, many sites have also leaked images of the smartphone.

TechCrunch also called the smartphone as the leakiest launch ever with videos Of SmartPause And Floating Touch surfacing on the web.

Samsung cashing in on the hype, has also organised five Live streaming of the event at Times Square for fans who will not be present at the launch venue.

Fans from all over the world can also log in to Samsung Mobile's official YouTube channel or Samsung's official Facebook Live streaming to watch the event.

Specifications:
Display: 4.99-inch SuperAMOLED FULL HD resolution (1080 x 1920 display with a 480ppi pixel density)
Screen: Multitouch with Corning Gorilla Glass 2 protection and TouchWiz UI
Operating System: Android 4.2.1
Processor: Quad-core 1.8 GHz Cortex-A15 and quad-core 1.2 GHz Cortex-A7
RAM: 2GB
Memory: 16GB internal, expandable to 64GB with microSD card.
Camera: 13 MP with LED flash with 2.1 MP front camera
Video: 1080p video recording
Supports: 2G Network with GSM 850 / 900 / 1800 / 1900
3G Network with HSDPA 850 / 900 / 1900 / 2100
4G Network LTE

Live launch event timings for various time zones:
Los Angeles: 4:00 pm PST (GMT-7)
Chicago: 6:00 pm CST (GMT-5)
London/England: 11:00 am (GMT)
Berlin/Western Europe: 12:00 am March 15th (GMT+1)
Philippines/Hong Kong/Malaysia: 7:00 am March 15th (GMT+8)
Tokyo: 8:00 am March 15th (GMT+9)
Watch live streaming here: