With The new Spidey movie just out, one just wonders what he'd think if he came visiting to Pune. What would Spidey's top 20 status updates be if he were to spend a day in Pune?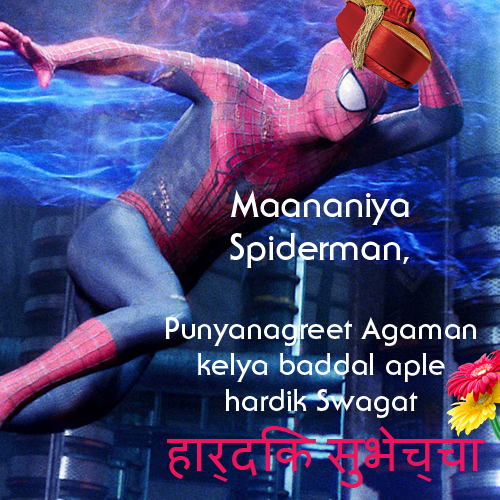 Shocked to see a poster of myself with some politicians with the word 'Hardik Shubhechha - Welcome to Pune'
Just Checked-in at Vaishali Just hanging from the wall waiting for a Table at Vaishali on Sunday.
Was knocked over by a Kaku on an speeding Activa while saving a boy on the Z- Bridge!
Aunt May would totally love the sarees I'm buying for her from Laxmi Road.
Gotta learn some new weaving techniques from these saree makers.
Some guy told me to show him my dance movies. NO, I'm NOT Esspiderman from the YouTube video! Jeez.
Aunt May's cakes are nothing compared to the walnut cake at Kayani Bakery.
OMG! A Puneri paati dedicated to me "Aat yenya purvi aaple webs baher theva. Keede not allowed."
Just picked up some bhakar-wadi for Harry Osborne ! #CantWait to have them with our next drink together.
Uncle Ben would have enjoyed the laughter club at Jogger's Park.
Tried to chase a group of women on bikes , head wrapped in scarves and all down FC Road, thinking they were robbers. #AwkwardMomentThe #PunePolice have just added me on their What's App group!
@PuneFoodiez Was missing some food from back home so went to Koregaon Park burger joint and had one stellar burger!
I just applied for the Supreme Pizza/Pav bhaji delivery boy Post at their Canal Road Branch .
#Pune looks amazing from here! #Tekdi #LawCollege
'Checked in at Faasos' - Need my food on the go
'Checked in Osho Ashram' - Sooooo need my regular meditation and stretches.
#WebPower Thank god I don't have to use these expensive autos in Pune. My webs are much cheaper!
Just bought this Puneri pagdi. Looks good doesn't it? *pic.twitter.me.in.puneri.pagdi*
I really need to learn Marathi, I can't understand anything the cops say to me.
Just checked my weight. I gained 10 pounds! I'm so addicted to #Misal pav and #Vada pav.
#Cinderella Its 11:30 p.m. ! What Party Over?
Loved these friendly #Punerkars, catch you later guys! #Pune