While India is grappling with the problem of Internet pornography, the government is determined to ensure that no one can access it online. Is accessing pornography online a private matter and as such cannot become the preserve of the government in regulating it? dna explores...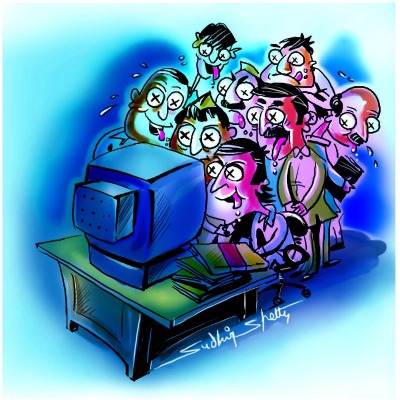 Rise in sexual crimes has nothing to do with web porn
I don't see any reason why Internet pornography should be banned, for the simple reason that children use Internet for educating themselves. A child who is curious about sex will find a way whether it is Internet or any other source, it is quite natural. Even though pornography is meant for adults, some children will access it out of inquisitiveness. Just because the streets have become unsafe for children, you do not stop them from going there. The key remains with the parents on how to expose their kids to Internet. It will be completely ridiculous for the government to restrict people from accessing pornography on Internet. We are living in a free democratic country where people have the right to choose. If their objective behind blocking Internet pornography is based on the reason that it leads to risks of sexual violence against women, then they are wrong. Increase in crimes against women has no relation to people accessing Internet pornography.
—Dr Bhooshan Shukla, child psychiatrist
If pornography is blocked, people will find illegal ways
A child accessing Internet pornography is watching out of curiosity and lack of sex education. With uncontrolled access to Internet pornography, children are bound to fall prey to unnecessary dangers. I don't know how it is technically possible to block pornography on Internet, but people will find ways to illegally access it. There will be avenues available, which then will be more dangerous. How can accessing Internet pornography be a private matter, when it comes in the social realm and affects socially. We have to agree that the child is not capable or mature enough to watch pornography. Whether to sanitise Internet of pornography in public interest, will have to be debated. It is true that our children are not empowered to watch pornography on Internet, because the education they get on the subject is very poor.
—Anuradha Sahasrabudhe, social activist
Blocking Internet pornography would be a daunting task
I totally agree and support this initiative of sanitising Internet pornography in public interest. It would help society in many ways and primarily in reducing sexual harassment cases, which are increasing at an alarmingly pace. However, accessing pornography online is a private matter and in your own private bay as opposed to accessing pornography in public and office areas, which is a punishable offence. Blocking Internet pornography would indeed be a daunting task but with combined efforts of ISPs and law enforcement agencies, it can be minimised. Technically it is very difficult to wipe it off. Today, Internet is present in every home and every individual has access to it on his/her cellphone. I partially agree that Internet pornography addiction may result in increasing sexual violence against women. Psychology of the male viewing the content plays a major role. However, porn is for entertainment but others may try to replicate the actions shown in the porn movies.
—Niranjan Reddy, security analyst & founder, NetConclave Systems
Right to freedom of choice comes with certain restrictions
Technically it is not possible to block access to pornography on Internet. However, with the latest Internet Protocol version 6 (IPv6), it will become easier for identifying and locating computers on networks and routing traffic across the Internet. The new IPv6 will still take a year or two until it is available. With this unique IP address the network activity of every device connected to Internet can be tracked. Though every citizen has the right to freedom of expression or choice, it comes with certain restrictions. I totally agree that pornography should be totally banned in India and I am happy that the government is working on how it can be technically and practically possible.. People watching pornography replicate what they see in real life, which is why probably sexual offender have increased considerably. Majority of these porn websites are hosted in countries where it is legally allowed, so it is becoming difficult for the police to track offenders in India.
—Gaurav Jachak, cyber lawyer
Unanswered questions
* Should debates about pornography take place in public domain or become the preserve of government intent on legislating it?
* Does access to pornography lead to a greater risk of sexual violence?
* Do we have concrete evidence showing that pornography causes sexual crimes and violence against women?
* Does our laws manage to pin down what exactly constitutes pornography?
Problems & solutions
* The government has submitted in the Supreme Court that a complete ban on Internet pornography is impossible due to practical and technological problems in blocking all such websites
* A Cyber Advisory Committee is looking into various methods to achieve the same effect; one option being pre-installed software on every computer sold in the country that will block access to pornographic websites