A report by the Associated Chambers of Commerce and Industry of India says that Pune is one of the major e-waste generator cities in India. With no proper disposing and recycling system in place, the hazardous waste is posing a risk to the health of citizens as well as environment. Who is responsible for recycling of the e-waste? dna explores..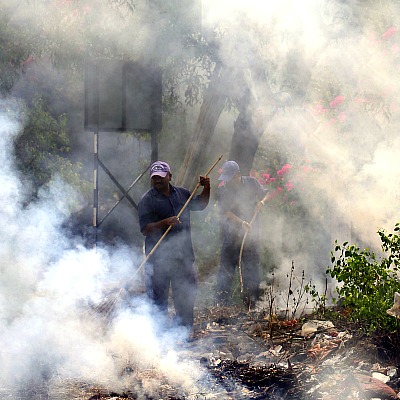 If the housing societies take the lead, then something can happen
The Pune Municipal Corporation is responsible for disposing and recycling of e-waste generated in the city. The civic body has to find out ways and methods of disposing and recycling e-waste. At individual level, we dump the e-waste in our dustbins, which then lands up in our garbage disposal system. Some of the e-waste is being incinerated, which is all the more dangerous for the environment and human health. The situation is such that we don' t want to segregate our household waste. If the housing societies take the initiative in collecting e-waste and then handing it to over to the PMC for disposal and recycling, then something can happen. PMC must make it mandatory for producers of electronic goods to collect e-waste and help in its proper disposal and recycling. The end-users of electronic products also have to be aware of health hazards from e-waste. Disposal of e-waste has to be very carefully handled as it contains a high degree of chemical and minerals. If not managed correctly, the outcome can be much more hazardous than other waste. All the concerned -- be it the manufacturer, user or the municipal corporation -- need to be more responsible about sharing of information, health hazards and disposal.
—Qaneez Sukhrani, civic activist
PMC should mark dedicated areas where citizens can drop e-waste
E-waste disposal and recycling is the responsibility of PMC. The administration has to realise that the city is facing very critical situation as far as the piling up of e-waste is concerned. Right now, the civic body does not have any dedicated facility to handle the city's e-waste. The e-waste that is landing up with the garbage disposal system is being handled by untrained people, putting them to high risk. The PMC has to mark certain dedicated areas where citizens can drop the e-waste. It should appoint trained and authorised persons to handle the e-waste. These days you can see some people moving around in the city distributing pamplets saying they are authorised e-waste collectors, but the truth is PMC has not given any such authorisation to anyone. It has to formulate a policy on proper e-waste disposable system otherwise the lives of citizens will always be at risk.
—Satish Khot, president, National Society for Clean Cities
There is a need for capacity building on e-waste mgmt
First of all the manufacturers of e-products must be made to take some responsibility of disposing and recycling of e-waste. There is a need for capacity building on management of e-waste, starting with the users of the e-products. The civic administration is doing something and they have a policy on e-waste management. There are ragpickers who are children and women, involved in handling the e-waste. In fact, the e-waste should not reach these people. The solution for managing e-waste is with the PMC and it has to do something. Managing e-waste has become a matter of concern and it is an environmental and health hazard.
—Erach Barucha, director, Bharati Vidyapeeth, Institute of Environment Education & Research
People are not aware of importance of e-waste disposal
Proper e-waste management is joint responsibility of the civic administration, manufacturers and the end users. The onus is on the PMC in creating sources of e-waste collection and recycling. Big companies definitely have an in-house process to handle e-waste. Ten years back, mobile phones were being used by one person in a family, but today each person owns one or two mobile phones and along with it they have a laptop, PC at home and other electronic gadgets. It is obvious that e-waste has increased manifold. At the corporate level they are the maximum consumers of e-products. Companies have to look at avenues of dumping these e-waste. The big problem is that people are not yet aware of the importance of proper disposal of e-waste. The fact is that even I don't know where to throw the e-waste, so I have no option but to dump it in the dustbin.
—Abhijit Atre, past president, SEAP

India has only two e-waste recycling plants at Bangalore and Chennai
We have proposed two e-waste collection centres for the city -- one at Hadapsar and the other at Kothrud. It is a proposal which we are working out with the Maharashtra Pollution Control Board (MPCB). We will also be using the SWACH channel in helping with the e-waste management. Recently, German International Cooperation, GIZ along with PMC, MCCIA, PCMC and MPCB had done a study on the sources of e-waste in the city, what is happening to the e-waste now, and what is the solution to manage e-waste. At present, India has only two e-waste recycling plants at Bangalore and Chennai. In 2007, the city was generating 2,500 metric tonnes of e-waste and now the number might have increased considerably.
—Suresh Jagtap, joint municipal commissioner (Solid Waste Management), PMC
The e-waste
Discarded computer monitors, motherboards, cathode ray tubes, mobile phones, chargers, CDs, headphones, LCD/plasma TVs, AC, refrigerators etc.
Fact file
* Over 4.5 lakh children across the country are exposed to toxic chemicals as they handle discarded electronic gadgets
* Of the total 12.5 lakh MT of e-waste generated in India, only 4 pc is recycled while the remaining is handled by scrap dealers
* When the e-waste is burnt to recover copper and other precious metal, kids come into contact with over 1,000 toxic substances
* This is likely to cause irreversible damage to their liver, kidney and the nervous system