BJP has chosen Amit Shah as party president and Modi-Shah axis is becoming stronger. dna asks readers how will it work out for the party and the nation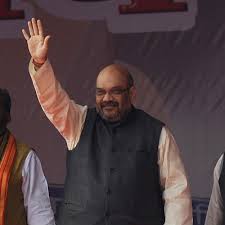 He is just a pawn for Modi; good for the party but not for nation...
The Gujarat model experiment was led by Amit Shah and now they are implementing the same Gujarat experiment nationwide. Looking at BJP's past, Amit Shah is suitable as a leader of the party. The Hindus are traditionally non-violent, but the BJP party is making it adopt violence. Modi wants to control the sangh pariwar and Amit Shah is his faithful coordinator. It is not the question of Gujarati dominance but whatever comes will come from Gujarat and everything will be khakra and dhokla. Shah is suitable for BJP as his personality reflects BJP, he is good for the party but not good for the nation.
Kumar Saptarishi, Founder, Yuvak Kranti Dal
Rajnath should have continued and held the baton for the party...
There is a huge difference between what BJP says and what they do and we've seen this after they have come to power. Even after the Supreme Court's decision to ban Amit Shah from Gujarat they have still elected him as their president. Is this the development model that they wish to follow? Is the party trying to set an example through this move? It seems like they are saying that only if you are a criminal will you be eligible for a position like this. If Modi continues to function like this then he will not come to power in the next elections. Rajnath Singh was a good leader. He was well grounded in his principals and was not corrupt.
Vivek Ghate, Congree Party Worker
He was chosen because it strenghthens ties with the RSS...
Appointing a criminal, appointing someone who has not yet been cleared of his criminal record, can never be right. But, if you take a look from the party's perspective this could benefit the party in the long run. Not only because Shah has stood by Modi and but also because it helps strengthen ties with RSS. It is not that BJP did not have other people to elect from. BJP as a party works as a team and thanks to this they have a lot people who could have been elected instead of Shah. With Modi and Shah and their partnership, a new capitalistic approach would be the main focus.
Prakash Pawar, Political Science Professor and Political Analyst
What are Amit Shah's qualifications for this post?
Shah is known as an expert in encounters, which is being liked by BJP leadership. Shah is very successful as far as maneuvering election and state machinery is concerned. I doubt what qualification does Amit Shah hold to become the president of BJP. One thing is clear that RSS-BJP have entrusted all the party and government affairs in the hands of Modi. Shah is just a shadow. Modi want's to control everything and Shah is maneuvering it for him. Power over the party, the govt and Shah are in Modi's hands. This is unhealthy.
Bhai Vaidya, Senior Socialist leader
He has a criminal record and this decision might create problems in future...
The main reason that Modi has appointed Shah as the president is because Shah came to his aid when he needed it the most and was one of the main reasons for Modi's success. Amit Shah is a strong follower of the RSS ideology that backs the Modi government and so with that perspective, he became the most suitable candidate for the post. Shah however has a very strong criminal record, be it the encounter that he is under investigation for or even the Muzaffarnagar riots which has been proved through several studies and reports. Shah is known for breaking down the constituencies in Gujarat to win majority and there is now a chance that he plays those same cards on other states as well, which is why Modi might have decided to keep him close. This decision in no way is beneficial to the nation, if anything it might just create problems in future.
Alok Oak, Political Science Faculty, Symbiosis School for Liberal Arts
Modi is keeping his allies close but has let people down by selecting him...
This a personal matter of the Bhartiya Janta Party and that people outside the party should not be interfering with them. They should have selected a clean leader. That is what the public expects and this is where the party has let them down. This plants a doubt in the minds of the public and makes Modi coming to power in the next year difficult. Moreover the main thing that can be seen over here is that, this is a move by Modi for the betterment of the party rather than for the nation. Amit Shah has played a pivotal role in giving BJP the majority that it got in a lot of the states and as such Modi is keeping his allies close. We should give BJP the benefit of doubt and wait for time to tell if this decision taken by Modi works or not.
Subhash Vare, Secretary, SM Joshi Socialist