Provocative social media messages led to violence in different parts of the city. dna asks readers if this was an attempt to instil fear among Punekars and disturb communal harmony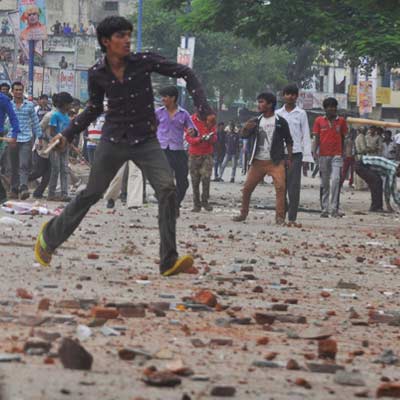 It's a tactic to gain political mileage...
There are rumours that the new government that has come to power is against communal harmony, but it is not so. They think that such provocations spread the fear psychosis within the city through media coverage. They are encouraged because nobody is booked in such cases and get away with the crime. The recent riots and stone pelting has left the PMPML with an estimated loss of over 90 lakh rupees. The citizens of Pune should help in maintaining peace and not encourage such elements to achieve their goals. PMPML is the only means of transport for a large section of citizens and the miscreants target these buses. The political parties calling for the bandh should pay the compensation and should also punish the miscreants for damaging the public transport buses.
—Jugal Rathi, President, PMP Pravasi Manch
We should stop believing in rumours...
These are attempts to disturb peace and communal harmony. Those doing so, are eagerly waiting for our angry reactions. There's no point in creating a fuss and giving them what they want. The city should ignore these proactive messages. One must understand the situation first, have a complete knowledge about the same and then respond to it. Police have made several arrests in the techie murder case but I feel they aren't being equally strict about the stone pelting incidents which is equally important, as it affects the bus going public directly. Panic or fear will always lead to havoc and riots. Following rumours or having an incomplete knowledge will result in an imbalanced situation in the society.
—Sanket Dhotre, Citizen
Netas could've easily stopped it...
The facebook posting and the provocative messages that are making the rounds are a miscreant's attempt to instigate angry reactions. The citizens of Pune should not fall for such attempts and spoil our communal harmony. A provocative message should not be a reason to spoil our religious foundations. We are living in communal harmony since ages, how can we allow such an ill thought message to shake our bonds? So many PMPML buses have been damaged. These rioters never travel by public transport buses. People who travel by these buses have to bear the brunt. The government is going to recover these losses from the citizens pocket. I feel, these attempts are a ruse for the upcoming assembly elections. The political leaders can stop all these riots and get people to move on
—Ateeque Shaikh,
Member, Yuvak Kranti Dal
These attempts were deliberate...
The Police has failed to take required actions as twice in 10 days stone pelting incidents have taken place. From Day, the Police have been lenient and hence there have been no arrests regarding the stone pelting incidents. I think the Cyber-crime cell should co-ordinate with the Police and make sure such posts do not go viral. People cannot take law and order in their hands because someone sitting somewhere in India posted a picture on the social networking website. Bakeries and shops in the suburbs of Pune were targeted and that proves that the attempts are deliberate. Hindu as well as Muslim groups should come together and see to it that there are no further events like these and maintain peace.
—Azhar Ali Warsi,
City President, Jamaat-e-Islami Hind
Being Indian should be our only identity...
First of all, we should all get rid of the communal identity that still prevails in our society. Being a responsible Indian citizen should be the only identity and this should have nothing to do with what caste or religion one belongs to. By now even the common man has started to feel that the stone pelting incidents are to evoke communal tension. The loss of public property due to such incidents is almost never recovered and the authorities to start taking stern actions against these people. Plain clothed police should try to get to the root of this. I believe arrests can be made and once the police starts taking big steps it will create a deterrent effect. As far as the people are concerned, such incidents will help people come together to reject the 'dadagiri' and help lessen the tension.
—Ajit Abhyankar,
District Secretary, CPI (M)
The Facebook posts were not made in India...
It is obvious that these facebook posts and provocative messages are not coming from India. It is surprising how people over here are reacting and damaging public property. Any body can put anything on facebook and we start destroying state property as a reaction, is not sane at all. I feel there is a bigger conspiracy behind the spurt of riots and violence in the city. The state government has fallen into the trap saying it is not communal tension. The Pune police is not doing enough to curtail the stone pelting and damaging of PMPML buses. I cannot understand this mentality of damaging one's own property for something that is not even done in India.
—Sudhir Jatar, President, Nagrik Chetna Manch