: Victim was to get married on May 1 and was distributing wedding cards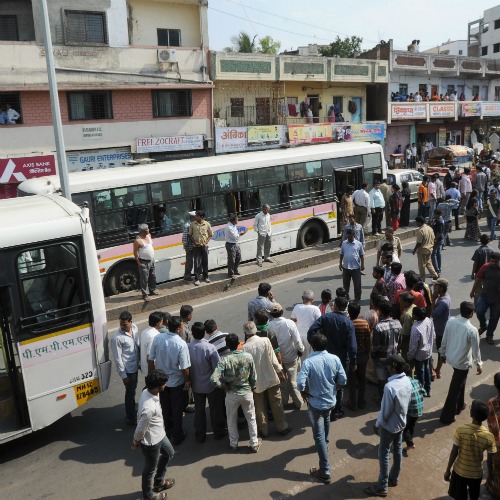 Pune: In a tragic accident, two youths lost their lives when they came under the rear wheels of a Pune Mahanagar Parivahan Mahamandal Limited (PMPML) bus in Kalewadi on Saturday afternoon. One of the victims was to get married on May 1 and the duo was distributing the wedding cards when the mishap took place.
According to the police, the would-be groom Roshan Bhimrao Kharat (26), a resident of Sanjaynagar in Nigdi along with his friend Deepak Jadhav (27) of Ghandhinagar in Pimpri left home to distribute the wedding cards on Saturday morning.
Around 3 pm, when they were passing near the Jyotiba Mangal Karyalaya at Kalewadi in Sanghvi, their bike hit the bus and both came under its rear wheels.
Sanghvi police said,"The duo suddenly came out on the main road from a lane and met with the accident. Passers-by rushed them to a nearby hospital where they were declared dead on arrival."
The police have a filed a case in this regard.
Speeding vehicles claim two pedestrians
Two pedestrians, a senior citizen and a woman, were killed after they were knocked down by speeding vehicles in two separate mishaps on Friday night.
In the first accident, Haribapu Shinde (81), a resident of Vimannagar was knocked down by a two-wheeler near Ramwadi on the new airport road around 10:30 pm on Friday.
According to the airport police, Shinde was trying to cross the road when the speeding two-wheeler hit him. He was rushed to a nearby hospital where he lost his life while undergoing treatment. The police have arrested the two-wheeler rider Sunil Kunjir (32), a resident of Keshav Park in Lohegaon.
In the second mishap, Shanti Saudagar (45), a resident of Pashan was knocked down by an unidentified vehicle while she was returning home along with her husband. The incident took place opposite Sayali Restaurant on Pune-Bangalore highway at 11 pm on Friday.
The victim's husband Munna Mohammad Saudagar has lodged a complaint against the unidentified vehicle with the Chatuhshrungi police station.
Police said that Saudagar rushed his wife to a nearby hospital where she was declared dead on arrival. They said that the complainant was unable to see the registration number of the vehicle as it was dark. He, however, mentioned in his complaint that it was a heavy vehicle.