Though the PCB is initiating drives, the vendors get back to business after few hours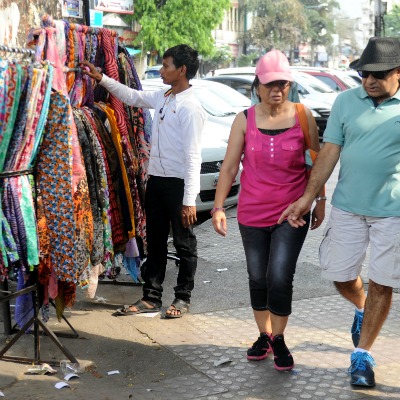 Pune: Despite the Pune Cantonment Board conducting drives against hawkers and street vendors on busy MG Road, these vendors still manage to run the show by putting up their stalls again.
The PCB's drive against encroachment of the footpaths by hawkers is into its second week and the measures are now yielding visible results but not without shortcomings. Dna on Jan 31, had reported a news (now Pune Cantonment board to get rid of Hawkers menace), following which PCB has decided to take strong steps against this problem.
However, the actual scenario speaks differently as the hawkers somehow find their way out to put up their stalls. "We set up our things in the morning, and around 5 in the evening we pack up, when the PCB arrives with their vans to take our goods away," says one of the local hawkers. Its not until 8 in the evening that these road sellers are back with their goods in to the business.
According to chief health superintendent of PCB Vinayak Salaskar, "This movement is a result of frequent complaints from the residents as well as those who visit M G Road often for leisure."
The PCB has been constantly putting in efforts to free the roads from encroachment, but this time under strict orders from their CEO, Brig Lalit Joshi, they are more strict and vigilant. "To clear this mess, we seize the goods of these local hawkers. The goods are inspected and returned to them only after they pay the fine," added Salaskar. But street hawkers tell the different story. They are unhappy with the high handedness of PCB as latter do not return their goods despite additional fines.