Noble act | Through his good deed Inamdar seeks blessings of people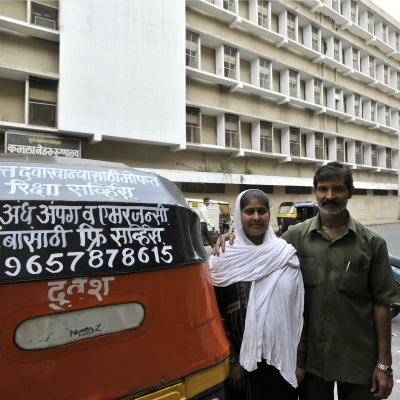 Pune: It has been a decade that he is seeing his paralysed wife bearing the pain.
There have innumerable times when 40-year-old Aziz Inamdar had to do the rounds of the hospital.
While his wife went through the pain physically, the mental torture that he went through was immense too.
Realising that others do not go through the same pain, Inamdar, who earns his livelihood as a auto-rickshaw driver, now offers his help every time he gets a chance.
He provides free rickshaw service to patients visiting hospitals and pathology clinics.
Ask Inamdar why he does so, he says that he wants the blessing of the needy people. "I just hope that these blessings help my wife overcome the pain and trauma she is experiencing every day," Inamdar told dna.
Aziz, who once worked in a Khed Shivapur-based organisation that produced PCB Circuit Board was forced to resign as he could not go to his job daily due to wife's illness.
"In 2004, she had her first paralysis attack. Her left side was paralysed and she was unable to speak," he said.
"I had to bring my wife to Tarachand Ramnath Charitable Ayurvedic Hospital almost everyday from Khed for her treatment. But I did not have the money to pay for auto-rickshaw fares," he said.
The hardship made him start his own rickshaw service which led him to help out poor people who need to go the hospital in times of emergency.
Inamdar, thanks almighty for having some 'real' friends who helped him at his time of need. "They gave me a place to stay here at Mangalwar Peth" said the man who refuses to receive any popularity for this noble cause which he started two years ago.
Speaking to dna, he said that he never entertains any monetary help coming from any organisation or individuals.
"My wife still gets attacks. There are days when she cannot recognize us," said Inamdar.