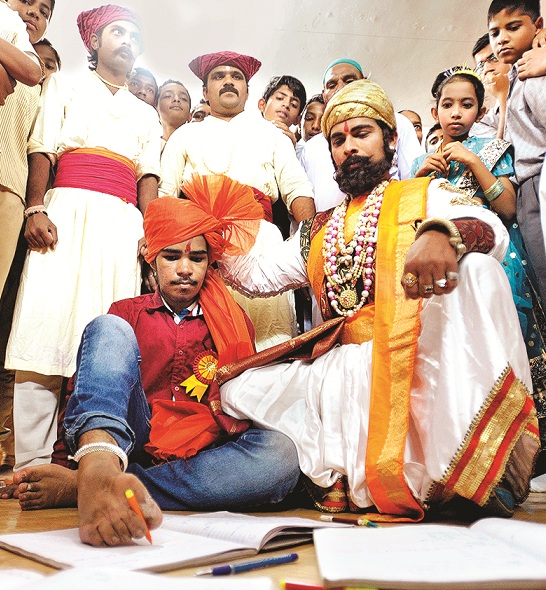 Pune: He passed his SSC exams with a mere 55 percent this year, yet his story is one filled with grit, inspiration and endurance. He was a hero to one and all in the audience. Sahil Shaikh is the name of the city's 17-year-old wonder boy who appeared his SSC exams with his toe-fingers and came out with flying colours and city based Ganesh Mandal had organised a program of his felicitation where school children of other schools were invited so that they get inspiration from hi.
Sahil's had life come crashing down 4 years ago, when he met with an accident due to which his both hands had to be amputated. His parents lost all hope but it was Sahil's courage and the never-say-die attitude which finally paid off. The Sainath mandal on Rasta Peth decided to felicitate this boy on 5th July in a unique way. Sahil was participating in a school function on the occasion of Chhatrapati Shivaji Maharaj anniversary four years ago when he was practising with an iron rod during rehearsals.The rod touched a high tension wire and he suffered serious burns.
The Sainath Mandal on Saturday thought of felicitating this boy by wearing silver "tode" in his feet. It was a de-ja-vu moment for Sahil when four boys dressed in the drapery of Shivaji maharaj and his "mawlas" came on the stage and felicitated him with silver tode in his feet. Also a famous poem by the marathi poet Kusumagraj saying "Pathivarti haat thevuni fakt ladh mhana" was gifted as a symbol of respect. P.N. Gadgil and sons had sponsered the Sainath Mandal for the silver tode. Students of Raja Dhanrajgiri school and the Vidya Niketan corporation school in Rasta Peth attended this function.
"Had Shivaji Maharaj been there,he would have gifted the boy with his special Najranas for winning the battle of life. We wanted to make him feel special for his endurance,resilience and efforts.", said Piyush Shah,the president of Sainath Mandal.
Social activist Renutai Gawaskar was the Chief guest of the function. Walchand Sancheti,trustee of the school,Kiran Jawalkar,manager P N Gadgil and Sons and Shahir Hemant Mawale also attended the function which took place in the auditorium of Raja Dhangiri school.
" If Sahil is capable of scoring good marks,you all should come out with flying colours this year. Believe in yourself. You are the best. And above all,donot treat anyone inferior to yourself in life." said Renutai Gawaskar in her speech. Amar Hireshikar,Balasaheb Hambalkar and Narendra Vyas were the organisers of this special and unique program.