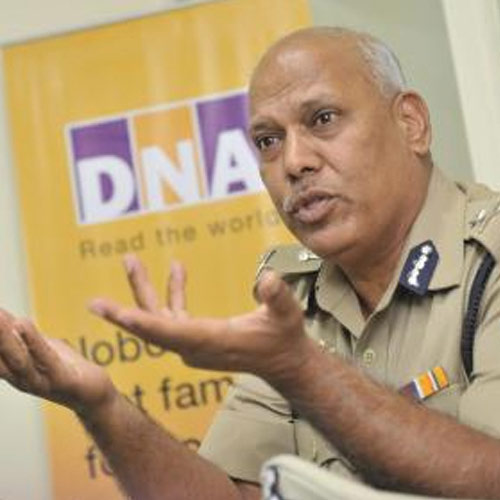 Pune: The story on former Pune police commissioner Gulabrao Pol taking help of tantriks to detect Dr Dabholkar murder has not gone down well with the retired cop, who has now slapped a Rs 100 crore defamation notice to journalist Ashish Khaitan. Interpol has charged Khetan for publishing a slanderous story involving his name with a malicious intent.
On Monday, Pol and his lawyer Harshad Nimbalkar held a press conference at Pune Union Working Journalist hall. The ten page notice has been addressed in the name of magazine editor and journalist Ashish Khetan.
Some of the point highlighted in the notices are, "The article published is false, fake and frivolous. Pol has render service in police department since 1981 and during the duration he was never a part of controversy but this article has maligned the image as he is awarded with various state and highest police medals in the service. Any form of liberal and slander have deep repercussions in social life of a person and hence, the law of the land has provided remedies under criminal law and civil laws. The story amounts to a ghastly attack upon a person's goodwill and reputation. Pol is a known face and identity in society." it stated.
Pol said, "I am a rationalist and do not personally practice such superstitious beliefs. Dr Dabholkar was one of the best person whom I knew for past ten years. And this case was a challenge to me. When I took charge, there was blast and in same month Dr Dabholkar was murdered. I had full faith in my policemen and for more resources I came into contact with former police officers who too assured help . For cracking the case and I did use their expertise but never took recourse to witchcraft, " he added.
he added, "The story has been published with the intention of maligning my image in society. This has not only diverted the line of investigation but such a cooked up story is meant for pushing up the sales of the said magazine . Khetan had come to meet me at Kolhapur and tried to to asked me a question on similar line but I had denied it. I had also warned him not to write anything wrong and if he did he will have to bear the consequences. I personally never met any officer and neither the farm house which is printed belongs to me."
Pol's lawyer Nimbalkar said, "We have issued a legal notice to them and have given them two weeks time to send us reply. If the notice reply is not satisfactory we will lodged a criminal complaint with police as well as a civil suit in court against the magazine editor and the journalist. Pol want written apology printed in the magazine as well as in rest of print media where such reports were published and also compensation of Rs 100 crores."
When DNA contacted Ashish Ketan about the notice, he said, "So far I have not received any notice. Once I get it, I will reply. I have got the evidences to my articles and for truth to come out I am ready to pass any test and even approach court. I have full faith in judiciary "
Meanwhile, the Home minister RR Patil had set up an inquiry in this regard in which the police officers who were initially working under the instruction of Pol will be executing an inquiry and probe the case.