Over 200 gather at the school after the message was sent over WhatsApp; beat bus driver and attendant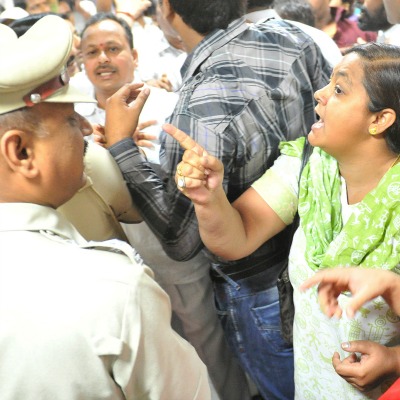 Pune: Not happy with what they deemed as delayed action by school authorities, parents of the sexually abused girl have lodged a police complaint against the school principal, class teacher and the management.
After the incident was revealed to the parents on Saturday, they decided to get guardians of other parents on board and used WhatsApp to inform them about what happened. By Monday morning, the anger of parents had runed into a groundswell. Not only did they want action against the culprits but also against the principal and class teacher for being inactive in a sensitive case.
One of the parents Priya Gandhi alleged that though the school authorities were expected to take quick action on Saturday itself, they did not do so and even defended the suspects. "When we went to the school on Saturday, the principal told us that both driver and attendant are good people and have been working for several years," she said. The school then sought some time from the parents and assured that they will take action and approach the police. But no action was taken on Saturday and Sunday, which prompted them to go to the school on Monday morning., she said.
"When we went there, the chairman of the institute said that he was not aware of the incident," she said. Angered that the school hadn't done enough, Gandhi decided to lodge a complaint. One of the parents also alleged that the attendant and the driver,who should have been behind the bars were seen in the school premises. Furious parents then beat up the duo before they were held by the cops.
The school authorities however had a different story to narrate.
"The parents had come to us on Saturday and told us about the incident. But they said they will be conducting medical tests to confirm if the girl was indeed abused. Today suddenly we see the protests," said Sujata Karanjkar, principal of the school.