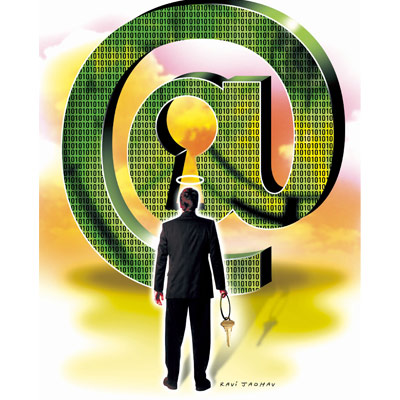 Heres is a case of a Additional session Judge's daughter's email account being hacked by an acquaintance who has known her for past four years. The victim had approached the arrested person for seeking admission for MBA and shared the email ids after which he broke open into her account and passed on defamatory information about her.
The arrested youth has been identified as Sachin alias Pravin Krupashankar Kushava (24), a resident of Uttar Pradesh. The incident came to light, when victim (25) approached Deccan Gymkhana police in June 20, against unidentified person. Complainant is a daughter of additional session judge who is posted in North India. Currently working as HR in IT company.
Pravin Chougule inspector in-charge of Deccan Gymkhana police station said, "Arrested person Sachin is twelfth pass and known to girl for last four years, where he worked as office boy in private company where girl worked earlier. Later she had left the company and had went to stay back with her parent in Two years back, complainant planned to pursue post graduation in MBA. She came into contact with Sachin via mutual friends and he demanded Rs 25,000 from her under the pretext of giving her MBA admission. She had exchange their email ids and mobile numbers. Sachin vanished with her money a year back he sending her objectionable smses on her mobile handset. She had warned him not to sent her smses and demanded Rs 25,000 to returned to her back."
He added, "From 2014,the girl realised her three email ids were hacked. She neglected and used another email id. Later her friends claimed, that they were being receiving defamatory mails from her hacked ids and even misleading facts about her father who is judge. Finally in June, 2014 she approached us and initially a case was registered against unidentified person. We with the help of city police cyber cell detected the case and zero down Sachin involvement in it. When we asked the complainant about Sachin, she confirmed that she knew Sachin. A team was sent to UP and we arrested him."
Chaugule said, "We have got Sachin police custody till Monday. Despite he being twelfth pass, he is having knowledge about computers and hacking. We will probe and find out the real reason behind stalking and hacking her mail. A case of cheating, stalking has been filed under Indian Penal Code and also under The Information Technology Act."