From Punjabis Baisakhi to Assamese Bihu and Keralites Vishu. This is a week of festivity for all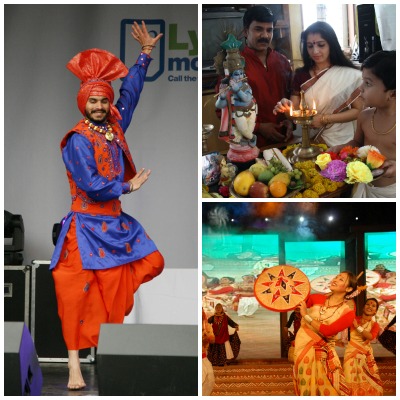 Pune: The city is all set to celebrate the festival spree. This week will witness the celebrations of three festivals together. Punjabis will celebrate Baisakhi, Assamese celebrate Bihu and Keralites celebrate Vishu all being harvest festival. Sheetal Soni talks to people from different background cultures to know more about the festivals.
Baisakhi di lakh lakh vadhayan (14th April)
Baisakhi signifies the martyrdom of Guru Teg Bahadur Singh, the ninth Sikh Guru. Also, this day witnessed the foundation of the 'Khalsa group'. This festival is celebrated by Sikhs all over India with bhangra, music and food. Pune will be celebrating Baisakhi with colours and food all over the city. Gurudwaras in Aundh and Camp will be flooded with Sikhs who will pay respect to their guru.
"Pune does not let us miss home," says Kajol Verma, a student who hails from Punjab. "The celebrations are quite similar,"she adds.
Hakoluloi Rongaali Bihur (April 15)
Bihu is a festival of Assam which is celebrated to mark the change of the season. It is also the new year of the Assamese. The celebrations start with worshiping Lord Shiva and offering to him the cultivated crops. This day is also the most auspicious day for weddings. Bihu Pitha, a authentic Assamese rice dish is prepared with the help of bamboos on this day. Cultural dances and folk music enhance the Bihu celebrations. "Enthusiasm is at its best on this day. We dance and sing our hearts out," said Bharat Kafle, an Assamese who lives in the city.
Vishu Ashamsakal (April 15)
Vishu, a Malayali festival marks the beginning of new year for Keralites. This festival is celebrated to invite wealth, happiness and prosperity into the family. Lord Vishnu is worshiped on this day. The most important part of the celebration is the Vishukkani which means 'The first thing seen on the day of Vishu after waking up.' A decorative plate is prepared in the prayer room with items that signify prosperity including rice, fruits, vegetables, betel leaves, yellow flowers(konna), coins, mirror and holy texts. These are the first things to be seen as soon as you wake up. The elders on this day give presents to their younger ones to shower their blessings on them.
"I will celebrate the festival traditionally with my son and daughter-in-law," says Savitri Swaminathan, who has traveled all the way from Kerela to Pune to celebrate Vishu with her family in Pune. "Tonight I will prepare the Vishukkani for my family and hope that this year brings happiness and success to all of us," she added.
Holy Week
Christians will be celebrating Holy Week which started yesterday with the Palm Sunday signifying the entry of Christ in Jerusalem followed by Maundy Thursday celebrating Christs last Supper. This will continue on good Friday when Christians will have a special prayer in church followed by a special service relating to his sufferings and crucifixion. The Holy Week ends with the Grand Easter Sunday where his resurrection is celebrated by gifting Easter decorative eggs.