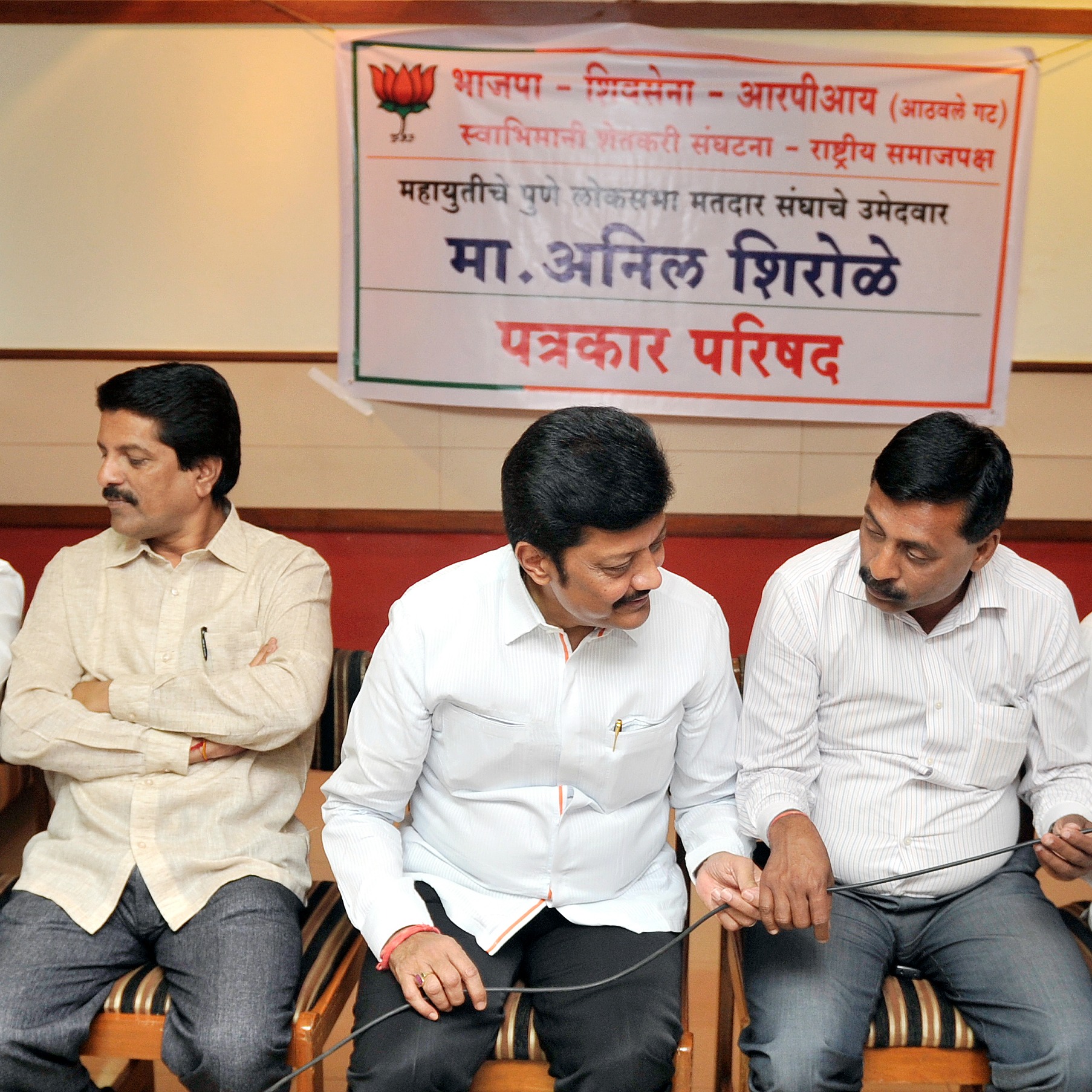 Shirole enjoys Munde's strong support, Bapat's 'secular' image undid him
Pune: Bharatiya Janata Party (BJP) Lok Sabha candidate for Pune, Anil Shirole's closeness to party deputy leader in Lok Sabha Gopinath Munde resulted in Shirole's selection in the constituency.
Girish Bapat not having any godfather in New Delhi helped Shirole's cause further.Major reasons for denial of ticket to, if party insiders and RSS veterans are to be believed, is his association with guardian minister Ajit Pawar and his image of not being a rightist leader but a secular one.Munde has proved that the party cannot ignore him. Even the leader of the opposition in state legislative council Vinod Tavde was trying his best so that 4-time MLA Bapat does not get a ticket. Interestingly, Bapat had support from Gadkari only because Munde was having an aspirant from Pune.
While Brahmin voters are the traditional vote bank of BJP, division between Maratha votes coupled with infighting in Congress can make Shirole's candidature a right choice, was the argument made by Shirole supporters.
This argument by the Shirole camp was accepted by party president Rajnath Singh. Singh was vested with the final decision on Pune seat since Central Election Committee could not decide it because of rivalry between Munde and former national president of the party Gadkari. Bapat's past also has played a role and many party workers are citing Bapat's role during 2004 Lok Sabha elections when sitting MP Pradeep Rawat was defeated playing a key to the decision. Many insiders from RSS are citing that Bapat despite being a BJP MLA was soft towards minorities and close to Pawar. Comment of a veteran Vishwa Hindu Parishad office bearer summarises it all when he told Shirole this morning, "For the first time, the party has done the right thing and VHP activists are more happy than the party workers on your candidature."
Seeking devine blessings before the plunge
Shirole was traveling as a pillion on a moped when he visited Akhil Mandai Mandal, Dagdusheth Halwai Ganapati Mandal, village deity Kasaba Ganapati and onlookers were surprised to see him on a two-wheeler since his name and photograph has been on the front pages of almost all the dailies. Party workers tell many stories of Shirole which reflect on his straight forwardness, honesty and uncompromising nature.
Veteran BJP leader fails to turn up at press meet
Even as BJP MLA Girish Bapat kept away from the joint press conference of the mega-alliance leaders on Monday, the party's Lok Sabha candidate from Pune Anil Shirole and election in-charge Pradeep Rawat expressed confidence that the veteran leader will join the poll campaign. Earlier, angry supporters of Bapat crowded his residence in Omkareshwar area and raised slogans in his support. Although Shirole assured that the MLA would join the press conference, he did not turn up.Shirole and Rawat said that they would approach the electorate with the agenda of making Narendra Modi the next prime minister. He said that if elected as the Pune MP, he would provide solutions to all the problems of the city.
Shirole said that he had made his stand clear on all the issues including traffic, garbage, sewage treatment and mass transit. "The Metro and Mono Rail projects are nothing but false promises by the Congress-NCP combine. Political will is needed to resolve these issues," he said, adding that rivers in Pune can be rejuvenated on the lines of those in Gujarat, especially Ahmedabad.