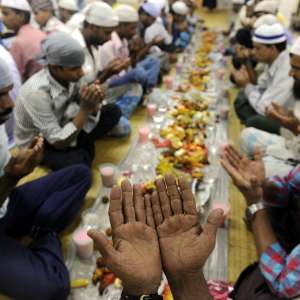 As the Muslim community in the city prepares for Ramadan fast starting Monday, Pune's hotspots like Mominpura, Shivaji Market in Pune Cantonment and Kausarbaug in Kondhwa will turn into a beehive of activity not just for Muslims in the city, but for other Puneites, who throng the food stalls in a large number to relish the Ramadan delicacies.
The first day of fasting begins from today, with the traditional predawn meal ( Suhoor ) and as the sunsets in, the Muslims break their day-long fast with traditional dates and water followed by sumptuous meals at the multiple foodstalls dishing out mouth watering delicacies.
Qari Idrees, an influential cleric said, "Fasting means we do not eat or drink from dawn until sunset. It is an spiritual journey we take for thirty days. Ramadan is the ninth month of the Islamic calendar and is the holiest month in which Allah revealed the Holy Quran. Fasting on Ramadan is one of the five pillars of Islam.
Explaining the meaning of Ramdan, Idrees said the word 'Ramadan,' means burning, it is derived from "Ramad" means burn, the real meaning is burning of sins. "If we fast in the way, the Allah likes, then will forgive all of our sins," added Idrees. The cleric said, "I think it will be a good idea for non-Muslims brothers to experience fasting followed by Iftar. All the communities should come together and participate in this national festival," he added.
Special night prayers "Taraweeh" with long portions of the Quran will be recited in all the mosques, as a part of disciple and worship following the day long fasting. Ikram Khan, social worker said that the social media is being effectively used by Muslims to create awareness about the prayer timings, Iftar and Suhoor this time. "Iftar programmes aimed at bringing greater unity amongst the citizens belonging to all the faiths will be conducted, as a part of good will and Islamic gesture," he added.
Meanwhile, the centre of attraction will be the Grand Mosque of Azam Campus where 2000 people recite prayers during any time of the day in Ramdan. Meanwhile, a large parking space inside Azam Campus and Kondhwa ground in Kausarbaug has been made available for parking. DCP (Traffic ) Vishwas Pandhare said traffic advisory related to no parking near religious structures and overcrowding has been issued for the peaceful conduct of the festival.