His early lessons in music come from his father Sunil Kadgaonkar. But it was only under the able guidance of Hindustani classical music vocalist Pandit Raghunandan Panshikar that his voice found its wings.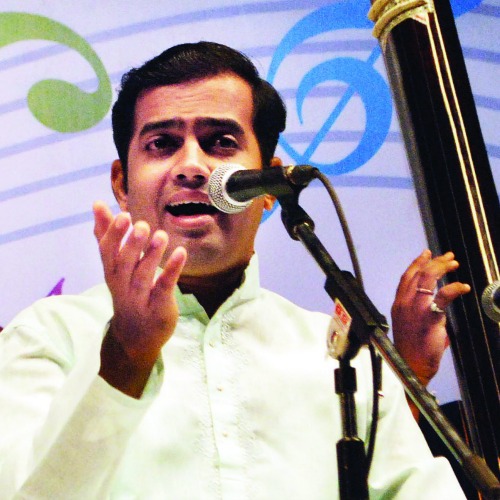 Early lessons from his father
As a child, Saurabh first learnt to play tabla from his father. He would accompany him for his riyaz. Listening to his father croon helped him improve his vocals. When Saurabh entered Class VI, he started participating in inter-school and other musical competitions. By the time he was a 10th grader, his voice started to crack, following which, he was advised not to sing for the next few years. In the interim, he learnt to play the harmonium at Gandharva Mahavidyalaya.
In 2006, he was back to learning Hindustani classical music vocals from Pandit Raghunandan Panshikar. "In my childhood, I was accustomed to the Kirana gharana. But when I started taking lessons from Raghu dada, I switched over to the Jaipur Atravli gharana. It took me a few years to get used to this transition. Now though, I sing only Jaipur Atravali," says Saurabh.
For the next few years, he taught at the Gandharva Mahavidyalaya in Baramati. By the time, he also completed his M.A. in music, specialising in vocals.

Foray into Marathi Sa Re Ga Ma Pa
As a participant on the Marathi television show Sa Re Ga Ma Pa in 2009, Saurabh today feels that the move gave him the right kind of exposure. This stint led to a role in Subodh Bhave's directorial debut musical play, Katyar Kaljat Ghusli, which today has completed 82 shows.

The musical journey of sorts
An early morning two-hour riyaz is Saurabh's priority. He practises with Raghunandanji every day and is open to performing at musical concerts and other programmes in the evening. "Raghu dada sings all genres of music, be it bhavgeet or ghazal. That gives me the confidence to be flexible. I sing sugam sangeet, natya sangeet and abhanga too when I am performing at concerts," Saurabh says.

Moments to be cherished
He gladly says, "Back in 2011, when I was in Baramati, I received a call from Rahul Deshpande, asking me to come to Pune that evening and attend the Vasantotsav. At the event, I was felicitated with an award by Ustad Amjad Ali Khan." This year, being a part of the annual Swathi Sangeethotsavam at the Royal Kuthiramalika Palace in Trivandrum, he adds, was a moment of pride for him. He reminisces, "This festival is an international concert. Plus, I had to sing the Bandishi, written by the late king himself. This was a completely new and different experience for me."

More shades of his personality
In college, he would often go on treks with his friends, and since then, he has been hooked to the activity. He heads out whenever he has time in hand. "When I travel for concerts, I make it a point to visit scenic places in the city. I love trying out different vegetarian cuisines at the places I visit," says Saurabh.