Neighbours in shock as incident happens under their nose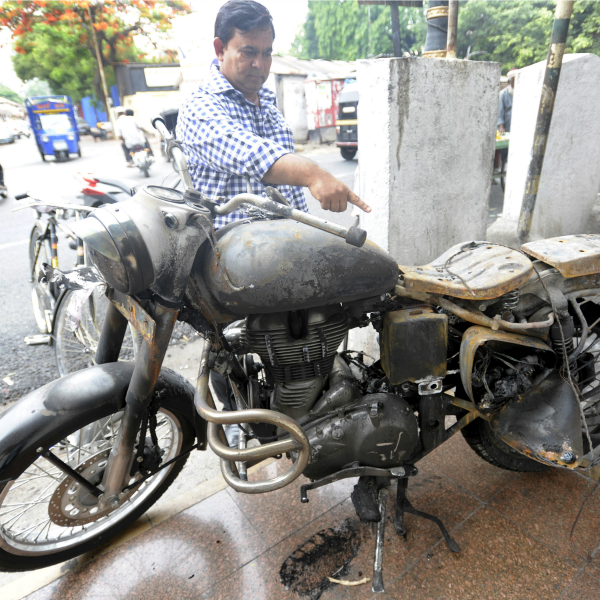 Pune: The entire family of Umar Khan (40), a resident of Cantonment area, is living under great fear. Early Monday, unidentified persons set Khan's Royal Enfield and a new moped bike on fire. They were parked outside the house.
"At around 3.30 am on Monday, we woke up following a commotion outside the house and when we came outside, our motor cycle was in flames," said Khan, who has cable business in the city.
The accused have been recorded in a CCTV camera but their faces could not be seen. Shirin Khan, Umar's daughter said that they checked the footage from a camera which was installed at one of the shops in their lane. They found that at around 3.19 am on Monday, three men were seen going towards the bike and setting it on fire.
"Since the angle of the camera was not directly focused, the faces of those three men could not be detected and only their lower bodies came in the frame," she said.
The family says that neighbours had started shouting after the bike caught fire. They came out and while watching the CCTV footage of the incident, they found that the suspects had gathered with the crowd. There were three of them who are seen in the footage trying to console the family.
Shirin said, "I can remember that one of the suspects who had got his hand burnt while setting up the bike on fire was there in the crowd and apologized to our family for waking us up."
Khan said that there were several people who gathered and helped in extinguishing the fire but the bike turned out to be a mere skeleton.
Shirin said that after this incident, the entire neighbourhood is in fear and manning the area during night.
Senior police inspector, D A Patil, of Samarth police station said that they are investigating the case. However, finding it difficult as the face of the miscreants have not been recorded.