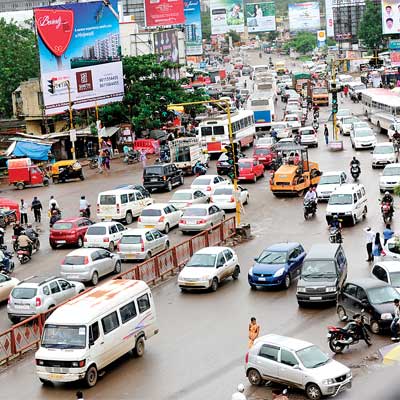 Pune: Rains and poor condition of roads proved to be hell for residents from Aundh, Baner and Pashan commuting through Chatushrungi. They were stuck in traffic for over half an hour while those using the Shivajinagar court route too had to face jams on Monday morning.
According to the traffic police, monsoon rains played truant with the commuters resulting in minor and major jams in the city. DCP (Traffic) Vishwas Pandhare went to the extent of blaming the crumbling civic infrastructure of the city to be the root cause behind the rising incidents of traffic jams in the city during monsoon.
Amit Kekane, a resident of Aundh on way to Shivajinagar, who had got stuck just near University Chowk blamed unruly traffic and lack of enforcement behind the traffic jam. "I had started early from my house and wanted to reach for an official work on time. I had an important business engagement and missed it as the traffic jam continued for over 45 minutes. Luckily, my clients have rescheduled the meeting otherwise it would have been a big loss," he added.
Manpreet Singh Ahluwalia, another commuter from NIBM was stranded outside the court for half an hour during the rains. According to Ahluwalia, she got stuck in a jam as a result of breakdown of a few four wheelers in the area. "I wanted to reach early as I had to attend my son who is ill but was late. I hope the concerned government agencies pull up their men for shoddy road works and also the policemen who should remain attentive to their call of duty," she added.
Appealing the citizens to follow lane discipline and restrain from abusing fellow commuters, Pandhare said, "Traffic jams are taking place due to monsoon where water logging makes commuting difficult. A large number of potholes on the city roads need to be repaired as the existing infrastructure is not keeping pace with the changing traffic scenario in the city."