NBDp candidate Vinita Deshmukh withdraws from the poll race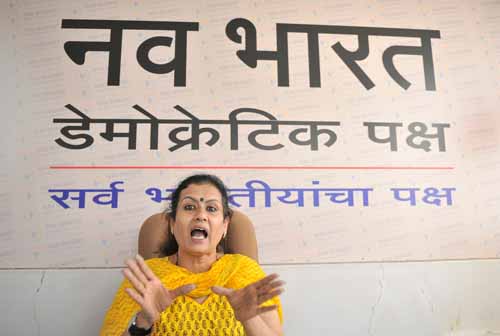 She was first to announce her candidature for Lok Sabha from Pune and when the election commission is about the announce the election dates, Vinita Deshmukh of Nav Bharat Democratic Party withdrew her candidature on Tuesday. Citing that there are other candidates with the same agenda of fighting against corruption are contesting on Pune seat, which will create division in votes therefore Deshmukh stated that she is sacrificing her candidature.
Deshmukh, senior journalist and RTI activist had announced her candidature nearly six months ago when she announced that she would be contesting on Pune Lok Sabha seat on the ticket of Nav Bharat Democratic Party and since then she was working on expanding her network in the city. " I did not want division of votes among the candidates who are fighting elections on the same agenda. I also did not want to convey wrong message that I am withdrawing my candidature after some deal and therefore I withdrew my candidature before all the candidates for Pune's seats are announced," said Deshmukh.
When asked the reason why she wanted to contest election, Deshmukh said, " I had never dreamt that I would be joining the politics. But since last two years, we have been witnessing wave across the country where people are coming forward to fight against corruption which made to take decision to enter into politics to give strong option for citizens during the election."
" Much before BJP started its Chai campaign, I had introduced Chai with Vinita where I have been urging citizens to go for voting. Now even after I have withdrawn, I will be still campaigning in the city to increase voting percentage," Deshmukh said.
Though Deshmukh has withdrawn her candidature from Lok Sabha elections, she has not yet quit politics and kept her option open to contest other forms of elections. " During the campaign, I learned a lot about the system and how to build a network. I will be using the experience of the campaign. There are other elections also like assembly elections and corporation elections and at this time, I am keeping all the options open," Deshmukh said.