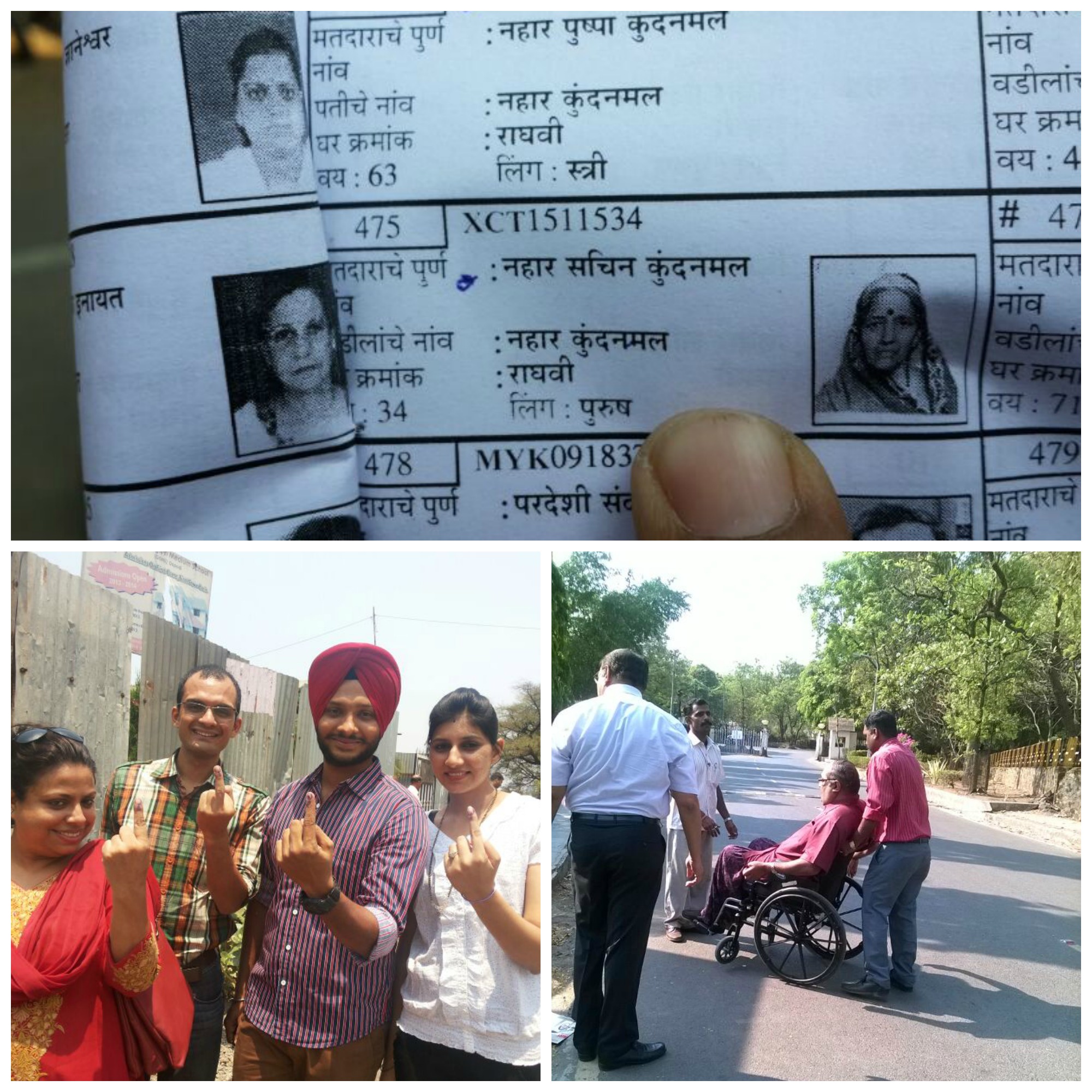 Thumbs Down
Several Names missing in voter list
Camp
Pic: Camp Residents assembled at BJ Medical College grounds
Nearly 210 residents of Camp area found their names missing in the voters list. Despite the facility of form 7 (Meant for addition and deletion of names in the list) being made available there, the polling officers could do little to help these voters. The citizens are heading to the district collector seeking help.
At Murgaon (Baramati District), AAP candidate Suresh Khopade's family could not caste their vote because of absence of their names in Murgaon polling booth. His brother Balasaheb Khopade, Balasaheb's wife Hemlata Khopade and his another brother's Trambak Khopade's wife Jayshree Khopade and his son Amar Khopade could not caste their vote. They traveled from Pune to Murgaon to vote but did not find their name in the voting list. Only Trambak Khopade could vote. This family has been travelling to Murgaon since a long time to vote. "this is the first time such thing has happened to us", said Trambak Khopade, his brother.
Monika Chaudhari and her husband Rashbihari Rao Chaudhary had to scour several polling booths as officials kept shunting them from one booth to another. Holding valis voting cards in their hands, they couldn't find their names anywhere. At NIBM Road's RIMS International school, they were able to find their names on the voter list on the Internet but the list with polling officers didn't reflect their names.
Major and Minor Gaffe's
Erandwane
Voting machine at poll booth was automatically voting for Congress. Bimba Nagarmath, a resident of Erandwane in Pune has complained to the Polling officer at booth 263 located at the Shamrao Kalmadi HighSchool in Erandwane, Pune. She noticed that the electronic voting machine displayed a vote for Congree, even if a voter pressed another button on the EVM. Now the Machine has been replaced. Read more : http://www.dnaindia.com/pune/report-voting-stopped-at-shamrao-kalmadi-school-pune-machine-replaced-1979174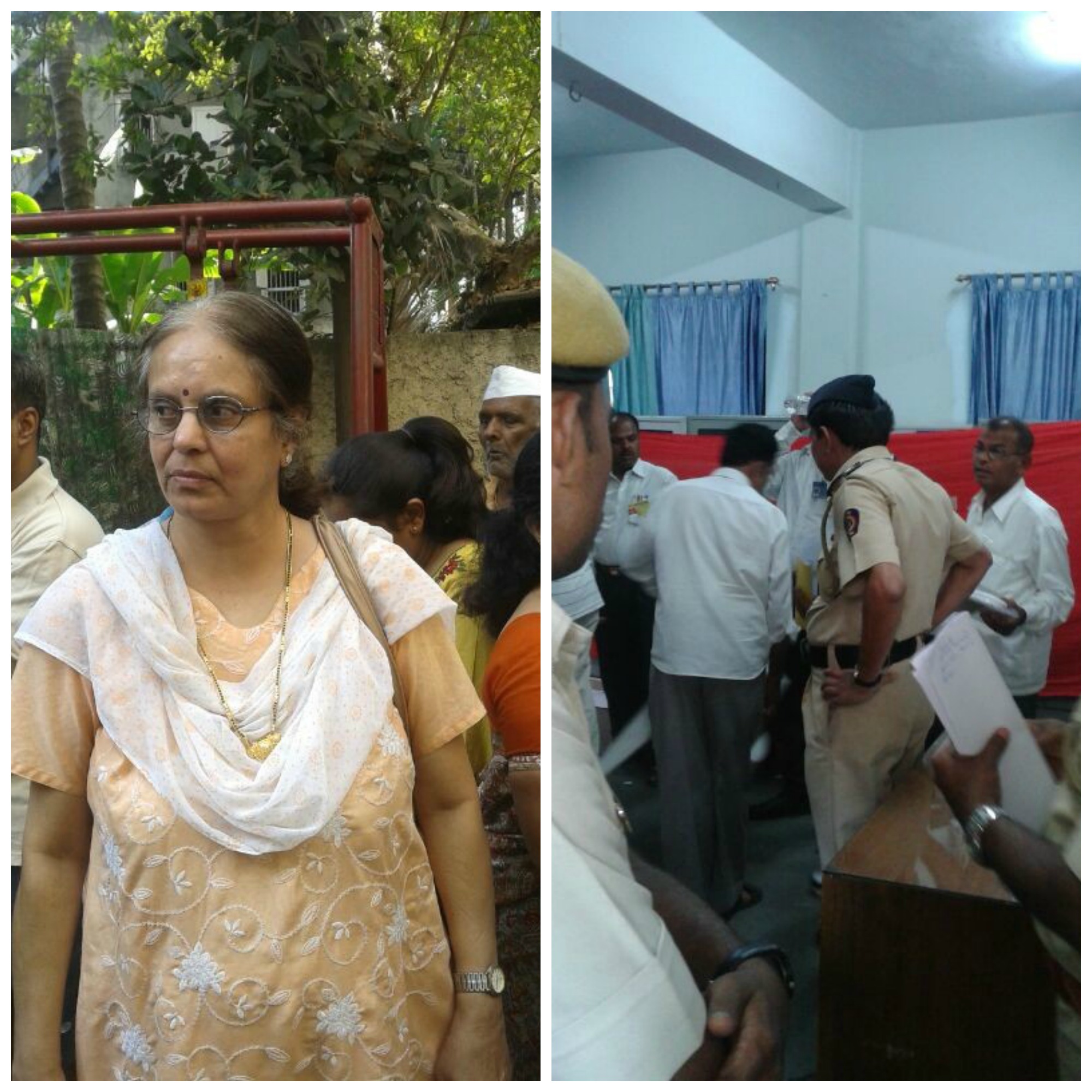 Bimba Nagarmath who alerted the officials about the glitch in the EVM
Sandhya Gokhale palekar and renowned film personality Amol Palekar were surprised to find their names missing from the voters' list . She Said, " For years we have voted from the same sector and yet our names are missing, this is very upsetting. We will do th eneedful to make sure next time around this does not happen." palekar told dna that she knows 50 others just like her in Pune.
Koregaon Park
With the elections firing up at every part of the city, there are some set backs in the voter list and voter card. A case of misplaced photo in the voting list is been reported at Koregona Park. Sachin Nahar (34), a registered voter in the Koregaon Park Polling Booth, is informed to have the picture of an old lady instead of himself in the voters list. The name, age, gender and address on the list are of the Sachin Nahar but the photo of the old lady is quite a mistake though.
Kalyani Nagar
Though the voting started off on a bad note at the Nagarwala school polling center as the voters had to wait for an hour or so before the EVM machine could start. The polling officer did not have an extra machine at the center, there was lack of ramp provision for the physically challenged and a shortage of helpers for them.
Kothrud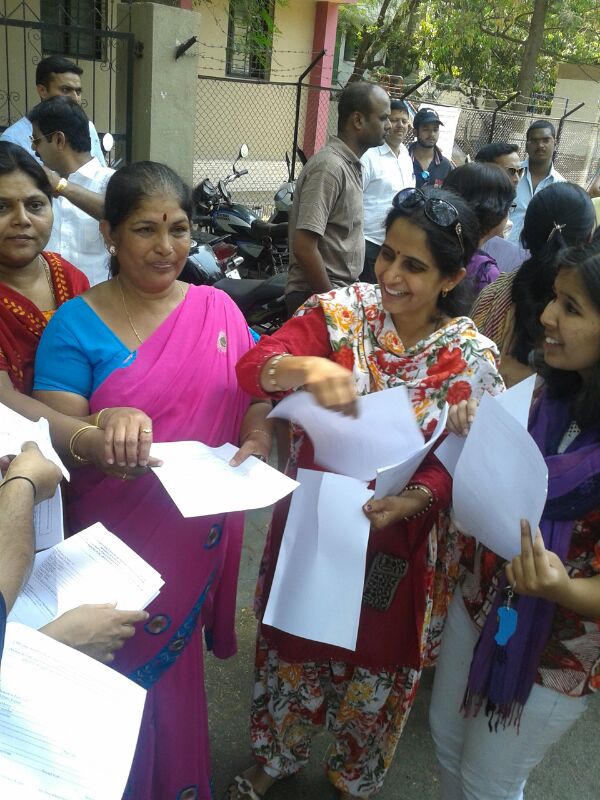 Women came to gether at the MIT Junior college and demanded to know why their names went missing from the voter list inspite of having voted many times before.
Thumbs Up
Voters turnout in large numbers, early morning to cast their
Model Colony
Vidya Bhavan School in Model Colony was abuzz with Voters lining up to cast their vote as early as 7:00 a.m. Joggers, Entire Families, Couples, Differently abled persons and NRI's waited patiently outside their respective booths. Jai Dhaigude Bodhani, who lives in Canada and is here to visit her family said, " I delayed my ride to the airport in Mumbai and went to vote with the rest of my Family in Pune."
A team of officers guided people to their right booths and allowed cars with elders to go till the very entrance of the School.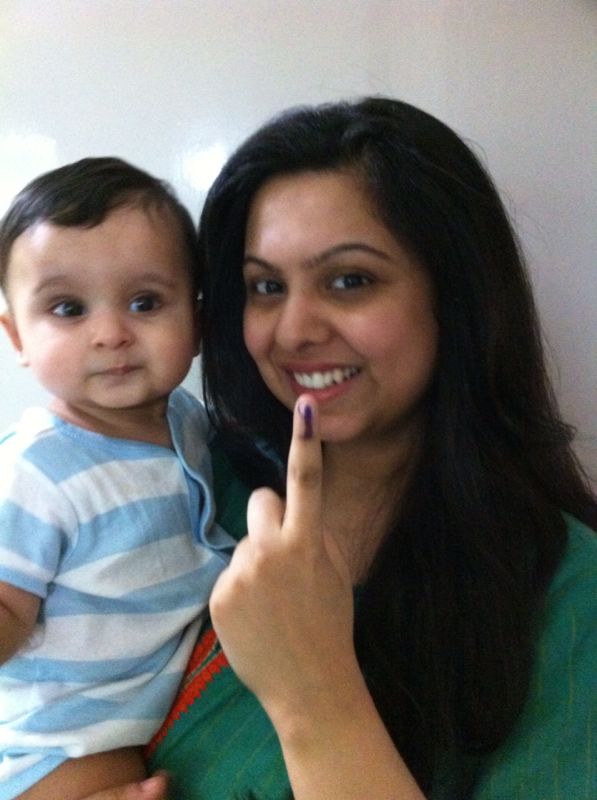 Jai Dhaigude Bodhani with her 6 month old baby just after she returned from Voting in Model Colony.

People travelling from abroad, other cities to cast votes
Chinchwad
Nothing can really stop a responsible citizen from exercising his 'right to vote', and this fact was exemplified with a fine example set by a gentleman who travelled all the way from Sanghai in China to Pune to cast his precious vote. Shreeram Rajangan, a resident of Empire Estate, Chinchwad is back to India after a span of a year and he is here with a mission. Early in the morning when he visited the Chinchwad constituency's poling booth hardly anyone knew the extraordinary effort undertaken by the man. Rajangan came along with his wife. "I am here to vote for a better government, and if I can make this possible, I believe all the citizens here shouldn't abstain from their duty," mentioned an excited Rajangan.
In another case, Senior police inspector and former PI with Faraskhana Police Station Bhanupratap Barge travelled to Pune to cast his vote. Barge who is currently posted in Mumbai was here with his wife and will be going back to duty after casting vote.
Law enforcers now won't lag behind when it comes to choosing their rulers, thanks to postal ballot system. Policemen and constables in the Dapodi area fulfilled their duties as a citizen by exercising their 'right to vote'.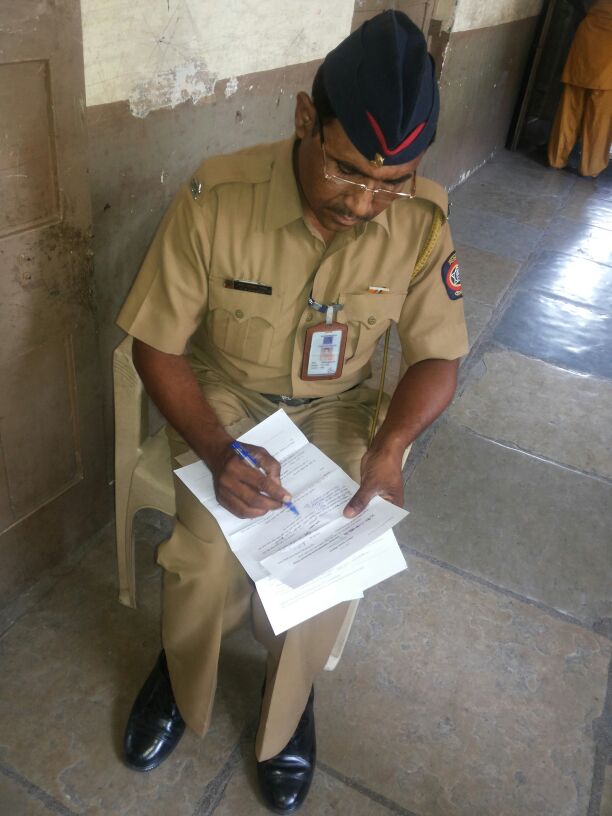 Head constable Baban Jadhav
Will power to Vote
Enthusiastic voters who came against all odds to vote, faced varied troubles in the process. Ashok Pandurang Dhotare, 47 is a business man and he initially came to his poling booth on wheel chair, however there was a lack of the provision of ramps for such voters. Despite such odds, Dhotare went ahead and cast his vote on creches.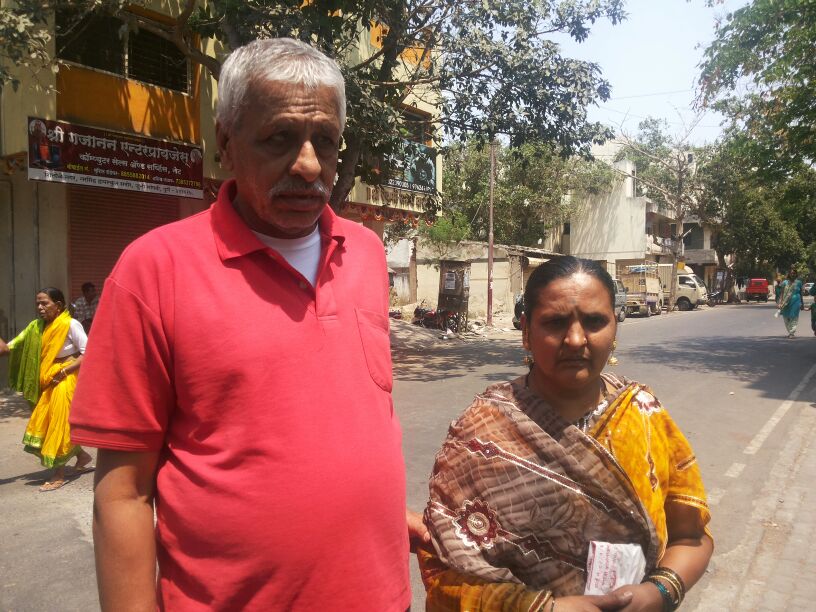 Visually impaired person being guided by his wife to and from the booth.
In Sanghavi, visually impaired person Madan Shinde, 61 found it difficult to cast his vote but assisted by his wife, he exercised his right.
Yerwada/Nagar Road
It is not just in preaching but also in practicing believes 29 year old Ashma Saldanha, who despite having a fractured leg made it a point to vote.
Speaking to dna, the professor with Wadia College Saldanha said, " I had to wait for an hour to make my way to the booth. Despite being on crutches, I got no assistance at the booth. " Saldanha who fractured her right leg while at a basketball match a fortnight ago also said, " It is to set an example for my students that I came to vote today. "
The authorities in the poll booth could have on humanitarian grounds helped Saldanha have a better experience.
Nagar Road
This thirty five year old physically challenged person had to wait for half an hour to cast his ballot.
Subodh Jagtap, resident of Shastrinagar at the end called up his friend who physically lifted him to the classroom. He said, " There was nobody to help me which is when I called my friend to the booth. Later I was provided with a chair which is why I was at ease and cast my vote. "
The school was ill equipped to accommodate physically challenged persons who had turned for voting. Nor was there any help that they received.