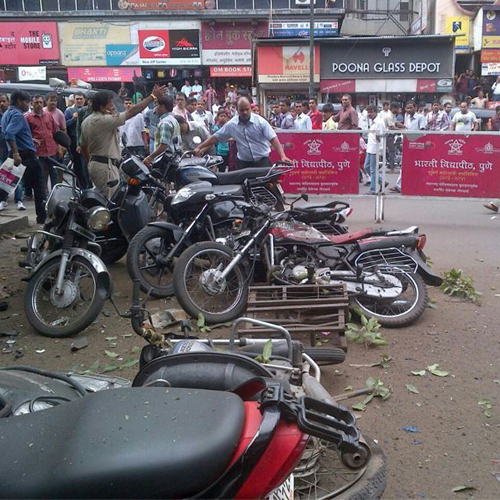 Three people were injured in a minor explosion at a police station in Pune on Thursday.
The explosion occurred at the Faraskhana police station, behind Dagdusheth Halwai Temple, after an object kept in the storage compartment of a parked motorcycle blew up. Three people including a police man were injured. One of them, Manisha Jadhav, owns a vada pav stall near the parking area, and the other, 19-year-old Deepak Singh, works at the vada pav centre.
An Anti-Terrorist Sqaud and a team of forensics rushed to the spot to inspect the damaged bike. According to preliminary information shared by the police, the bike was parked in the parking compound of the Faraskhana police station. The police are yet to trace the owner of the bike.
"The forensic team will examine the spot and the contents of the parcel compartment of the bike thoroughly to ascertain the facts. No other vehicles were damaged. A man standing nearby received minor scratches," said a senior police official.
Meanwhile, Pune police commissioner confirms explosion was low intensity bomb blast
Three persons including a constable were injured when an explosive placed on a motorcycle went off near a police station here this afternoon, police said.
The "low-intensity" blast occurred near Pharaskhana Police Station close to the famous Dagdusheth Halwai Temple in the busy Budhwar Peth area around 2:30 PM.
Top police officials and Bomb Detection and Disposal Squad have reached the spot, while forensic experts are scouring the area to collect evidence, sources said, adding the condition of those injured, who were yet to be identified, was not serious.
Senior police and ATS officials refused to give any further details about the incident.
Pune was rocked by four coordinated low-intensity explosions on 1 August, 2012 which had left one person injured.
The city had come on the terror radar for the first tine when 17 people were killed and around 60 injured in a powerful blast at German Bakery, one of Pune's favourite eateries, on 13 February, 2010.
Home-grown terror outfit Indian Mujahideen was blamed for both the attacks.
Meanwhile, a team from Mumbai Anti-terrorism Squad has been rushed to assist an ATS team already stationed in Pune in the probe.
Sources in Mumbai ATS said it was too early to conclude whether today's explosion was the handiwork of terrorists.
With agency inputs