Bad roads, footpaths and improper waste mgmt plague the area, despite people paying huge amount in property tax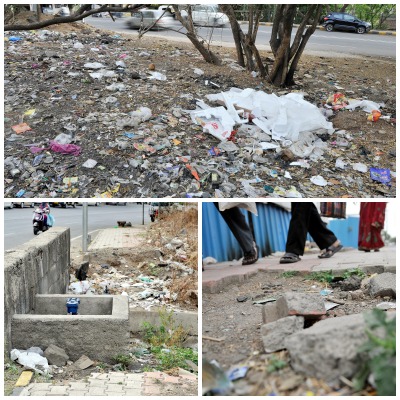 Pune: Despite paying a whopping amount of Rs25 crore as property tax to the Pune Muncipal Corporation (PMC), residents of Bavdhan area are deprived of basic facilities.Poor condition of the roads, garbage piled up at many places, bus stops without sheds, broken footpaths, among other issues have plagued the area. Residents living in the area feel that the civic body is treating Bavdhan as a village.
Once a secluded area, Bavdhan has witnessed a tremendous growth over the past few years.Many IT professionals prefer to live in the area due to proximity to the Hinjewadi IT park. Many posh societies have come up in the area and due to the increasing demand, the real estate rates have gone up to Rs6,000 square feet.
Residents miffed
Neelkanth Bajaj, president of Bavdhan Citizens Forum, told dna, "It is an upper class dominated area where IT professionals, doctors, retired army officials are staying. However, when it comes to having basic amenities, we don't have any.""We have been ardent participants in PMC's activities. We had also given suggestions in PMC's participatory budget and the civic body had also approved some of the suggestions. But they are yet to be turned into reality. PMC officials had promised to install LED lights across Bavdhan area, but till date, no light has been installed and the entire area becomes unsafe at night, particularly for women," said Bajaj. The citizens' forum had recently approached Kothrud ward office with a list of demands where they had given more than 20 demands for Bavdhan area.
PMC's assurances continue
When Avinash Sakpal, Kothrud ward officer of PMC was contacted, he said, "We are carrying out various development activities in the area. The road work is being carried out on many lanes. We will soon be installing LED lights throughout Bavdhan. We will address all the problems of the area."