How often have we heard people coming back from Singapore and Dubai and telling us how amazingly clean the roads are and how pollution free the air there is. I believe they have forgotten how clean and beautiful Pune used to be.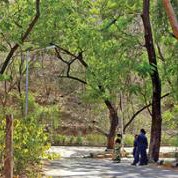 So how is it that the same men and women that clean and at times even pour buckets of water outside their own doors don't care about the streets they drive on? Why is it that the sight of a man in a big multi million rupees car rolling the window down only to spit onto the very road they take to work every day and then rolling up the window to enjoy the air-conditioned "Singapore or Dubai" in side their own car.
Honestly speaking, our city roads are dirty. Period. But it wasn't always so. Pune as I saw it used to be a clean city. I remember moving out here and smelling the clean air, so clean that even at busy traffic junctions one could always feel a soft cool breeze. Fast forward to today and all I see in Deccan, MG Road, Swargate and almost every other square including Hinjewadi – touted to be Pune's IT capital, is soot coated pavements and roadsides that are embellished with the sticky red of Gutka.
So how and why has this changed? Would it not be easy to simply blame it on the increasing population and just get lighten our souls. Ofcourse it would. Pune has grown two folds since the last 5 years but this is really just an excuse.
For one, with the increase in population the taxes have also increased and so has the expenditure on maintaining roads. Actually the connectivity and condition of roads has improved in the past 5 years. Remember the bumpy rides to the University circle a few years back?
For second, with projects like SWACH and other waste picking initiatives pavements aren't half as garbage laden as they used to be, well at least wherever we have pavements.
So what hasn't really changed? The government has to an extent done its part in mending the roads, social initiatives make sure the streets we share as citizens are cleaned up regularly – so what is it that still makes out streets filthy?
That brings me to the third reason and in my opinion the most obstinate one; it is the pollution in peoples mind- the shameless thought that someone else is here to clean our mess. We don't really care about how our streets look or smell or how our vehicles pollute, all we care about is how much we can brag about travelling abroad.
Air and noise pollution in our beloved Pune is not what makes our streets smell and dirty , it is the mentality that someone else will clean up.