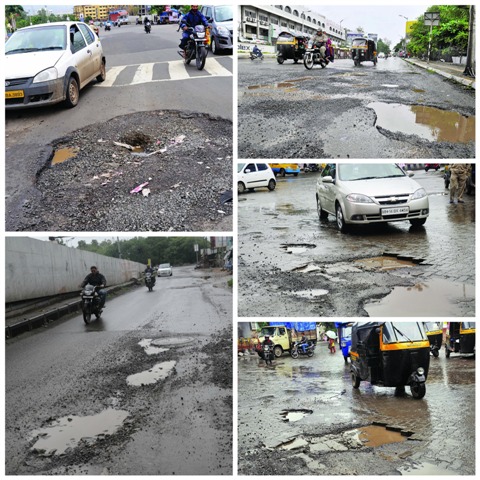 Pune: With Pimpri Chinchwad Municipal Coorporation (PCMC) area receiving spells of incessant rains for last few days, potholes are seen emerging on city roads, some at important junctions within the twin town.
Even though in its pre-monsoon works, the civic administration had stated that all their road surfacing work is over, potholes have come up on many internal roads within Chinchwadgaon, Bhosari, Pimpri, Thergaon and Akurdi, causing hardships for daily commuters. Especially the busy Chapekar chowk in Chinchwadgaon has a perennial problem of potholes and uneven road surface every season.
When Head of PCMC's civil engineering department, Mahavir Kamble was asked by dna if shoddy resurfacing road works was responsible for the potholes, he said,"These potholes have come up on locations where the roads were dug for laying cables of on going CCTV network project in PCMC area. The citizens can complain about the potholes through Sarathi helpline number and we will immediately rectify the pothole problem."
However citizens are complaining that poor work by contractors are responsible for potholes emerging in just week long rainful. "Rains have just began and it is still expected to pour for few more months. If this the situation of the road with just few days of rain, then in coming months, all the roads will be pothole ridden." said Arun Patil, a PCMC citizen.
Complaining about the bad state of Chapekar Chowk, Chinchwadgaon resident, Eknath Patil said, "The chowk has always been neglected by the civic administration. The uneven surface of the road at this busy crossroad looks like a never ending story and has become a nightmare with the monsoon in full swing." About a solution to Chapekar Chowk road, Kamble said, "We have made plans to completely renew the chowk and resurface the whole area once the rains recede."