Owners of a city-based firm shut shop after taking `20,000 from each student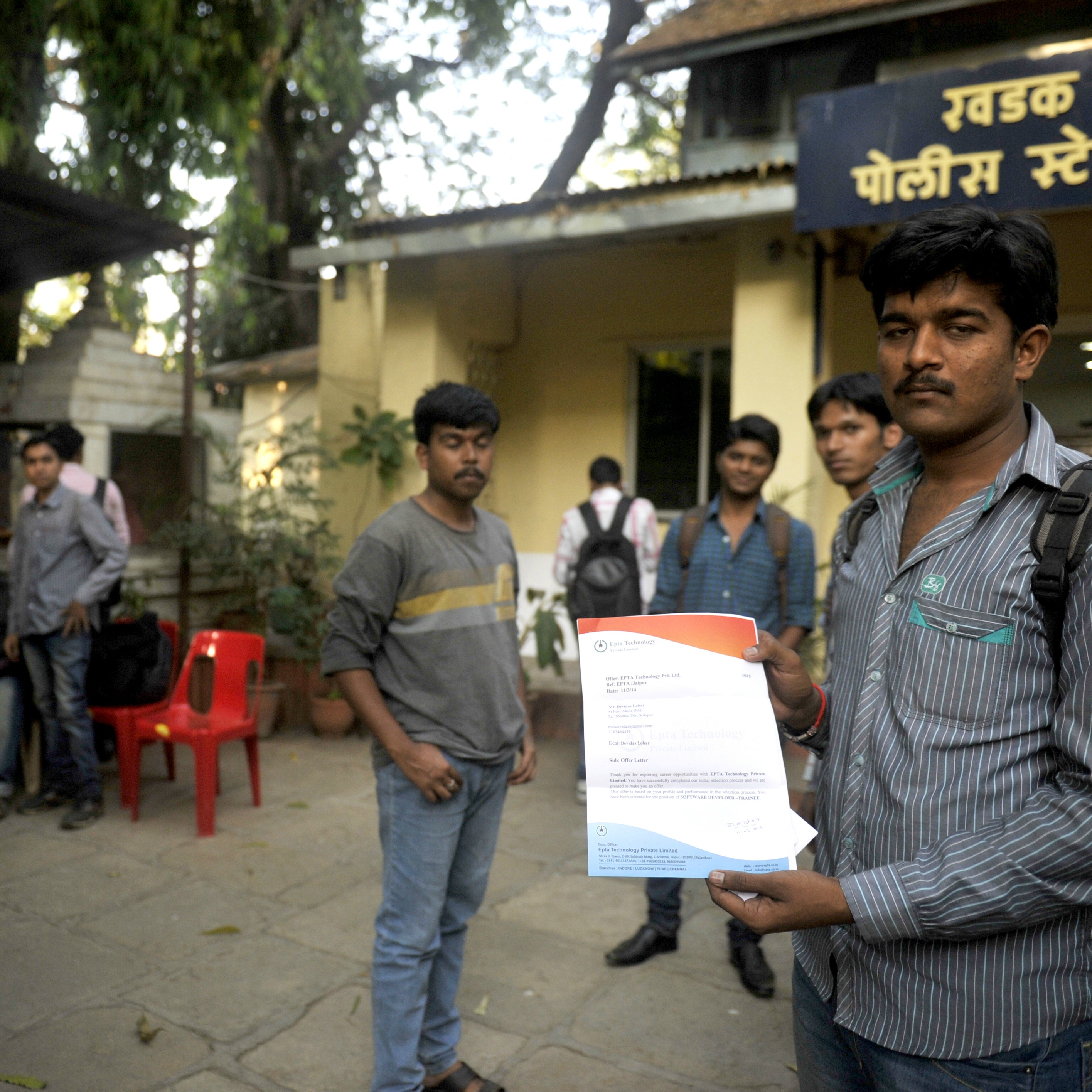 Pune: Three months ago, Ganesh Satwadhar, a computer graduate from a city-based college, had a job and was engaged. Today, he is jobless, thanks to the firm that duped him and 450 other students.

The owners shut the firm down and are absconding duping each job aspirant to the tune of Rs20,000. The fraud has now reached Rs1 crore and prompted all the employees to knock the doors of police station.

There are over 450 job aspirants who had recently passed out from city-based colleges. Majority of the students got hired by the firm called EPTA Technologies Private Limited through campus interviews.

However, in the past seven to eight days, the operations of the firm stopped which made the newly recruited students suspicious. When they inquired about the firm's Indore operations, they received a rude shock that the operations there too had shut and a complaint has been registered against the HR and owners with the local police station.

Satwadhar, who is from Beed and completed his MCA from a city- based college, got hired by the firm after he came to know ethat there was a job opening for the position of trainee developer in the firm.

"I got to know about the job through an online job portal and after applying I got a call from the HR department who had hired me after taking aptitude test, personal interview and HR interview," he said.

He said that during induction, the HR officials told all of them that they have to deposit Rs20,000 which will be refunded to them after three months of completion of training and after that all the trainee employees will get a yearly package ranging from Rs1.5 lakh to 2.5 lakh.

"Since my parents had no money, they took a loan of Rs40,000 so that I can deposit Rs20,000 and the remaining could be helpful to stay in Pune," he added.

Another employee, Manish Shinde, who is a MCA student from JSPM College, said that the HR officials had come to their campus to recruit them.

"In the induction, we were told that the firm has clients like Jindal Steel and other major firms abroad," she said.

Sarang Nirgude said that eight days ago, the HR officials in the office told them that the mother of one of the CEO passed away due to which the office would remain closed for the next eight days.

"Two days ago, we came to know that the Indore office has been closed and a case has been registered against the firm owners. We also went to out office on Shankarshet Road and sought clarification from three lady HR officials, who could not give us satisfactory answers," he said.

He along with several other employees then moved to the police station and demanded that case should be registered against them.

While speaking to dna, senior police inspector, Shashikant Chavan of Khadak police station said that they have detained three HR personnel and a process of registering the case has been started against the CEOs identified as Satyaprakash Gupta and Nikhil Raj, both from Jharkhand.

He said that all the employees are freshers who had recently completed their graduation in computers from various city-based colleges.

"We will also contact the police station in Indore where the case has been registered," he added.