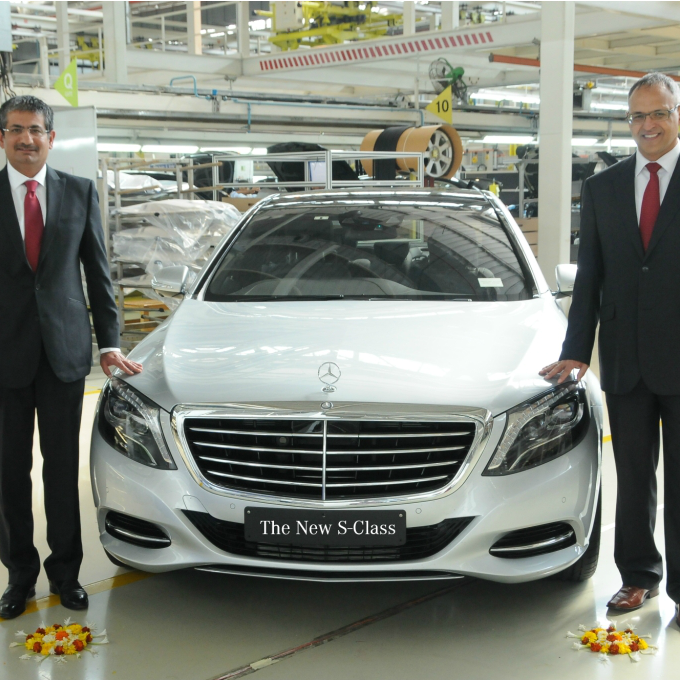 In January Mercedes Benz made an announcement that it would begin assembling its S-Class models at its Pune plant located in the industrial district of Chakan. The German mega premium car manufacturer also revealed plans to launch new models into the Indian market this year and today is a big day as its first successfully assembled model purrs to life.
Within 2 months of announcement
The S-Class, S500 rolled out of the world class assembly plant in Pune just within two months from the announcement owing to the high demand for the new S-Class. Managing director, Mercedes Benz India ltd. Eberhard Kern said, "Strong demand continues for the new S-Class". The waiting period as claimed by the company is already 3 months.
20 lakhs dip in ex showroom price
When the S-Class entered the Indian market it was priced at 1.57 Cr courtesy of the high duty that a foreign manufactured car pays. However the new S-Class assembled at the Chakan plant is 20 lakhs cheaper ( ex-showroom price for Mumbai).
All the hype about multilingualism
Apart from the regular upgrades in exterior features, interior luxury and safety, Mercedes has left no stone unturned to offer the best in its price by introducing the first in industry multilingual "Chauffeur Training Program". This facilitates chauffeurs of its New S-Class customers to make them aware of the features and also train them on their soft skills to give a complete luxury experience to the customers.
There's more, the 21 modules of this training program offer to enhance chauffeurs' soft skills, etiquette, personal development, courtesy and safety too.
A spa in a car
The car is literally a spa! It's equipped with seats engineered with hot stone massage function with six different programs ranging from relaxing and stimulating to an energizing effect.
Eberhard Kern, Managing Director & CEO, Mercedes-Benz India said, "The S-Class has always set newer standards that have retained its accolade as "the best automobile in the world" with each generation. It truly embodies our DNA and aspiration of 'the best or nothing' in every aspect."
Mercedes-Benz India closed a successful Year of Offensive for the year 2013 with 32% growth and remained the fastest growing luxury car brand of the country with 45% growth in H2 2013, the highest for any brand in the luxury car industry and with the new S-class they hope for another such year. This time they call it the year of excellence.