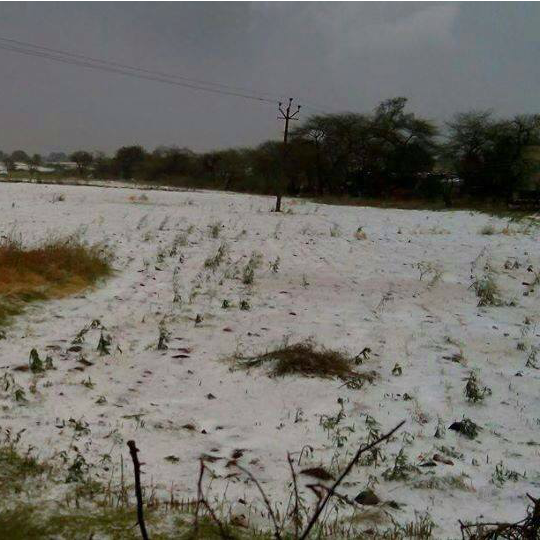 Pune: As farmers in many parts of the state continue to deal with the devastation caused by the hailstorms damaging their crops, some social organisations from Pune have decided to extend help to such farmers. While some NGOs have already sent their teams to the hailstorm-affected areas to assess losses, the primary teacher's association in the state has decided to donate their one day salary to the cause.

This has been one of the longest hailstorm spells in recent history, which created havoc in Central parts of India in first two weeks of March this year. The timing has been particularity bad, as crops that were damaged in the hailstorm were on the brink of being harvested. The farmers from Maharashtra have faced huge losses and over 15 farmers have already committed suicide as a result.

In order to offer relief to such affected farmers, state government had announced a relief package, but with the ongoing code of conduct in force, it will take some time for state government to release funds. That said, some NGOs have now come forward to take up the social responsibility and offer some quick and interim relief till official help becomes available.

Action For Agricultural Renewal in Maharashtra (AFARM) has already started assessment of the losses that farmers have incurred in parts of Marathwada. Subhash Tamboli, executive director of AFARM said, "We already have our units in Latur and other parts of Marathwada for assessing the actual loss. Meanwhile, we have already received some 20 calls from Puneites who are willing to help these farmers. Once we get a clear picture of the loss, we start providing required aid to affected farmers."

Similarly, Maitri NGO, which is active mostly in Melghat area is also carrying out its own study. Vinita Tatake, founder-volunteer of Maitri said, "There is still rainfall activity going on in Melghat area and nearly 100 per cent of the crops have been damaged. The Panchnama of the damaged has been completed in Melghat, and we will soon be providing help to concerned farmers."

Meanwhile, primary teacher's association has decided to donate one-day salary as aid. Even the University of Pune has decided to extend help to students who come from hailstorm-affected areas. Dr Pandit Shelke, the director of Board of Students Welfare of University of Pune said that they have not yet identified students to which such help may be given, but they have notified colleges located in these areas and asked them to help students with earn-and-learn scheme facilitated by the university.