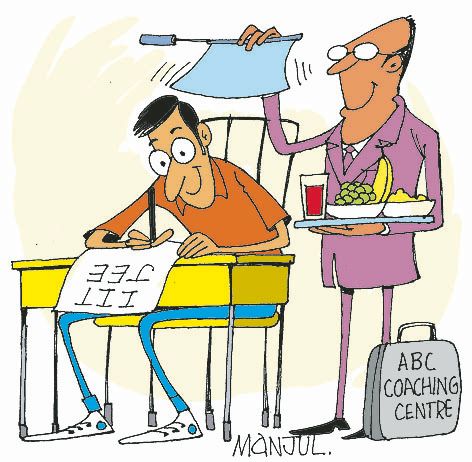 Pune: The Joint Entrance Examination helps for admissions in the IITs, NITs and centrally-funded engineering institutes, and students who are in the last phase of preparation should now revise all the topics with the help of summery sheets of key formulas and concept, which will act as a brush up tool to check out concepts quickly.
This year, JEE-main exam has been made the main criteria for admission into the engineering colleges abolishing the traditional MH-CET. With the JEE examination just few days away, a sense of curiosity and nervousness among the students is at a high, and students are expected work smart to over come issues.
"The JEE is not only a test of a student's preparation, but also how well he or she can handle pressure. Most of the aspirants have been preparing for this exam for a year or two, and must know that alongside the preparation for the subjects, they also need the right temperament for the exam," said Himanshu R Thakker, professor of Physics. He said that getting nervous or feeling pressurised could significantly harm their performance on the final day.
Centre head of FIITJEE, P K Dash said that some strategies should be followed in the next couple of weeks to beat stress, and make the most of the time available. With limited time at hand, aspirants must chalk out an overall plan, deciding specific target areas that need to be covered in whatever time is left. He said that it is also a responsibility of the parents to ensure that the child takes breaks in between to keep his mind fresh and active. Studying for long hours continuously is not very productive. "Ensure healthy food and sleep habits. Stressed children tend to mismanage their routines, in trying to study more. This can do more harm than good," he added.
Professor Thakkar said said that it is all about understanding the structure of the paper, attempting the sections, and managing time without stress. Another professor of physics, Dnyanesh Vaidya said that instead of reading just text books, students just need to emphasise on important points, since the days are very less.
Keep these in mind
Solve at least 30 multi-choice questions on daily basis
Revise all the topics in a stipulated time frame
Revisit all important concepts and formulas
More than sectional tests, take comprehensive, full-length mock-tests in an exam simulated condition
Mock test should be taken preferably during 9:00 AM - 12:30 PM , the time of actual JEE Main to get attuned with the exam time
See what kind of mistakes you are making most often. Try to reduce the repetition of mistakes as far as possible.
Since there is negative marking scheme for incorrect attempts, aspirant must be extremely careful in making too many wild guesses.
Last two days before the exam should be kept exclusively for the subject like inorganic chemistry where memorization is required.